mint flatbread with green onion pesto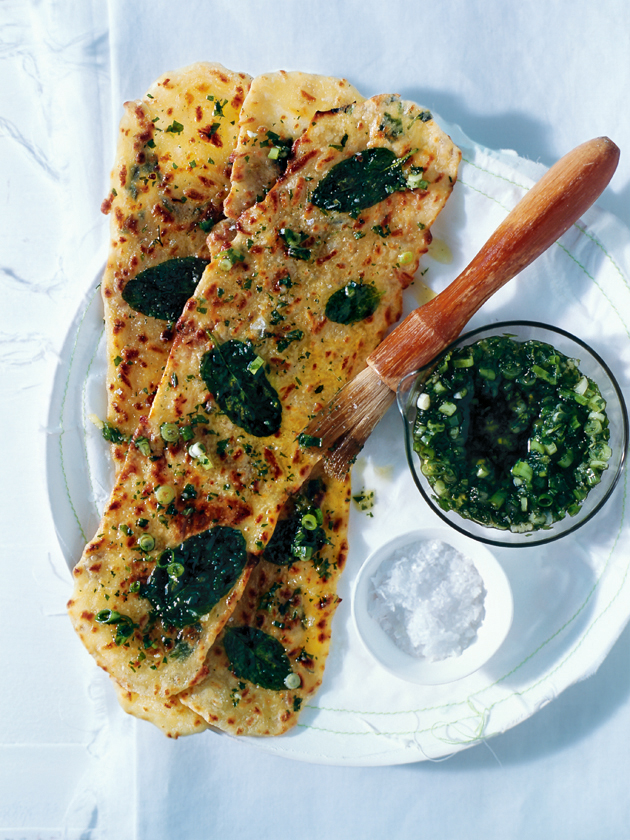 2 cups (300g) self-raising (self-rising) flour

2 tablespoons olive oil

2 cups grated haloumi

1 cup (250ml) boiling water

1 cup round mint leaves, plus extra, to decorate

sea salt flakes, to serve

green onion pesto
½ cup chopped green onions (scallions)

½ cup chopped round mint leaves

¾ cup (185ml) olive oil

2 cloves garlic, crushed

sea salt and cracked black pepper

To make the green onion pesto, place the green onion, mint, oil, garlic, salt and pepper in a bowl and stir to combine. Set aside.

Place the flour, oil, haloumi, water and mint in a bowl and mix well to form a soft dough. Set aside for 15 minutes to rest. Turn out onto a lightly floured surface and divide into 8 pieces. Roll each piece out to 30cm long. Top with extra mint leaves. Brush with the pesto.
Heat a large non-stick frying pan over medium heat. Cook bread, in batches, for 1–2 minutes each side or until golden and crisp. Brush with the remaining pesto and sprinkle with salt to serve. Makes 8.

There are no comments for this entry yet.