potato and herb pull-apart bread wreath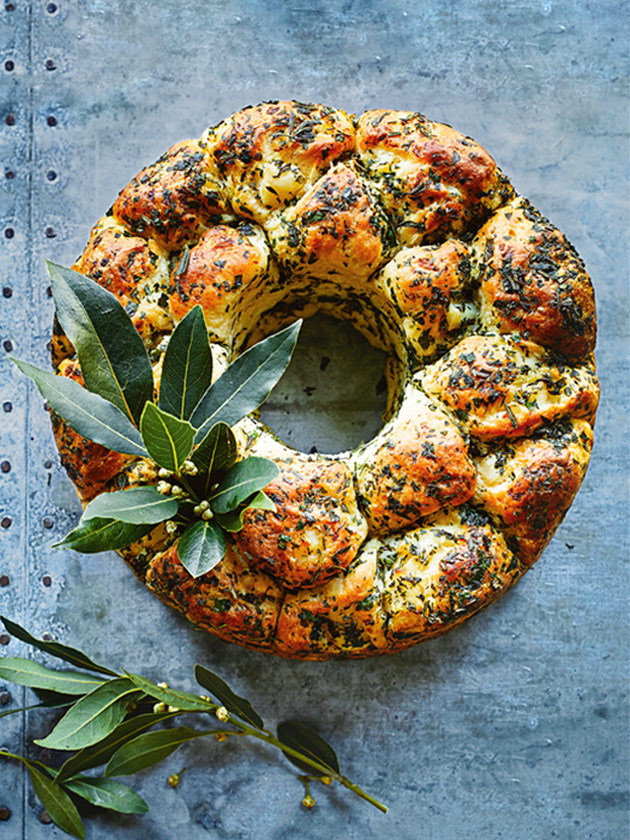 1kg rock salt

1.5kg sebago potatoes

1½ cups (375ml) milk

75g unsalted butter, chopped

1½ tablespoons caster (superfine) sugar

3 teaspoons dry yeast

4½ cups (675g) plain (all-purpose) flour

½ teaspoon sea salt flakes

3 eggs

3 cups flat-leaf parsley leaves, finely chopped

¼ cup rosemary leaves, finely chopped

¼ cup thyme leaves

⅓ cup (80ml) extra virgin olive oil

Preheat oven to 220°C (425°F). Place the rock salt on an oven tray and top with the potatoes. Prick the potatoes all over with a metal skewer and cook for 1 hour or until soft. Set aside to cool slightly before cutting in half and scooping out the flesh, discarding the skins. Reduce oven temperature to 180°C (350°F).
While the potato is cooling, place half the milk in a small saucepan over high heat and bring to just below the boil. Remove from heat, add the butter and sugar and stir until the butter is melted. Add the yeast and remaining milk and stir to combine. Set aside for 5 minutes or until the surface is foamy.
Place the flour, salt, eggs and yeast mixture into the bowl of an electric mixer fitted with a dough hook and beat for 5 minutes or until the dough is smooth and elastic. Place the dough in a lightly greased bowl, cover with plastic wrap and set aside in a warm place for 30 minutes or until doubled in size. Sprinkle the dough with the potato and gently knead together. Roll the dough into walnut-size balls (about 34).
Place the parsley, rosemary, thyme and oil in a small bowl and mix to combine. Lightly grease a 24cm cake tin and line with non-stick baking paper, allowing a 3cm overhang. Place a lightly greased 8cm-tall, 8cm-wide ovenproof ramekin+ in the centre of the cake tin to create a wreath shape. Roll the potato dough balls in the herb mixture and place in the tin. Cover with plastic wrap and set aside for 30 minutes or until the dough has risen.

Cook for 25 minutes or until golden brown and cooked through. While still warm, remove the ramekin and set the bread aside to cool slightly. Serve. Serves 8-10.
+ You could also use a 7cm-wide 9cm-tall (1¼-cup-capacity)ramekin. It's important the ramekin is at least 8cm tall, as the dough will continue to rise when cooking.
There are no comments for this entry yet.