ricotta and polenta chips with sage salt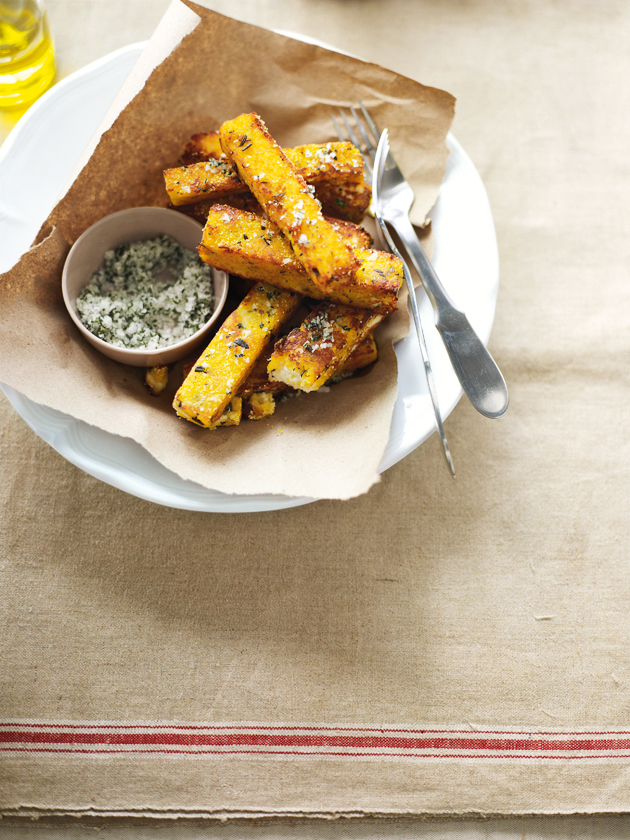 2 cups (500ml) chicken stock
1 cup (170g) instant polenta
1 cup (80g) finely grated parmesan
25g butter
½ cup rosemary leaves, chopped
sea salt and cracked black pepper
200g ricotta
olive oil, for frying
sage salt
1 tablespoon sea salt flakes
1 tablespoon chopped sage leaves

To make the sage salt, place the salt and sage in a bowl and mix to combine. Set aside. Place the stock in a large saucepan over medium heat and bring to the boil. Gradually add the polenta, whisking continuously for 2–3 minutes. Remove from the heat and stir through the parmesan, butter, rosemary and salt and pepper. Allow to cool for 10 minutes. Add the ricotta and fold through to combine.
Spoon and press the polenta into a lightly greased 20cm-square cake tin and refrigerate until set. Remove from the tin and slice into thick chips. Heat 1cm of oil in a large non-stick frying pan over high heat. Add the polenta chips, in batches, and cook for 2–3 minutes each side or until golden. Serve with the sage salt. Serves 4–6.

Bree Day
Awesome recipe base but there is just way too much rosemary. Adjust the rosemary and you have perfect polenta chips.