ricotta-stuffed zucchini flowers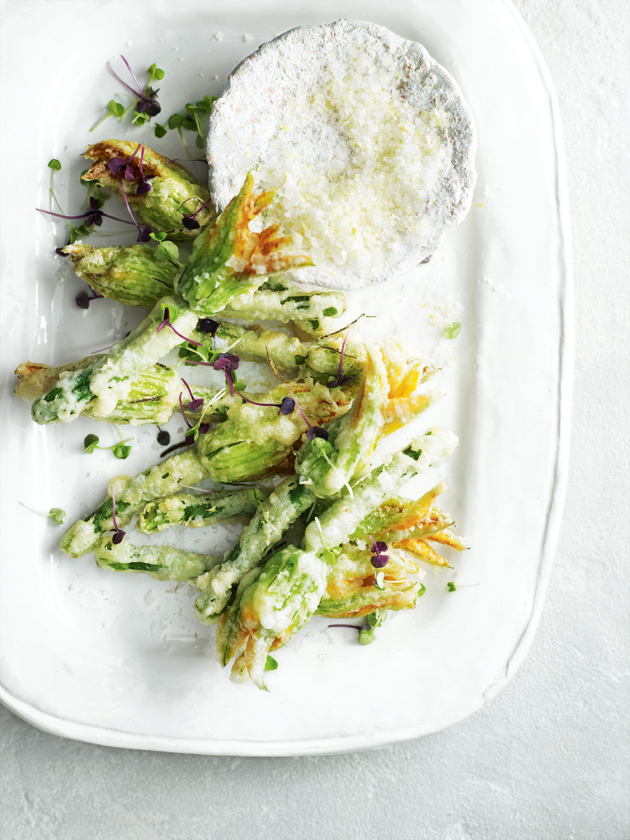 1 tablespoon finely grated lemon rind
⅔ cup (130g) fresh ricotta
⅓ cup basil leaves, chopped
½ cup (40g) finely grated pecorino
½ teaspoon dried chilli flakes
20 zucchini flowers (courgette), baby zucchini attached
1 cup (150g) cornflour (cornstarch)
½ cup (75g) self-raising (self-rising) flour, plus extra, for dusting
1¾ cups (430ml) iced water
vegetable oil, for frying
baby purple and green basil leaves, to serve
lemon salt
1 tablespoon sea salt flakes
1 tablespoon finely grated lemon rind

To make the lemon salt, place the salt and lemon rind in a small bowl and rub together with your fingertips to combine. Set aside.

Place the lemon rind, ricotta, basil, pecorino and chilli in a bowl and mix to combine. Gently spoon 1 teaspoonful of the mixture into each zucchini flower and twist the petals to enclose. Place the cornflour, self-raising flour and water in a bowl and mix with a butter knife until just combined (the mixture will be a bit lumpy). Allow to stand for 10 minutes.

Heat 1cm of oil in a large, deep saucepan over high heat until hot. Dust the zucchini flowers in the extra flour and dip into the batter. Cook, in batches, for 2–3 minutes or until puffed and golden. Drain on absorbent paper. Top the zucchini flowers with purple and green basil and the lemon salt to serve. Serves 4.

There are no comments for this entry yet.