roast vegetable pasties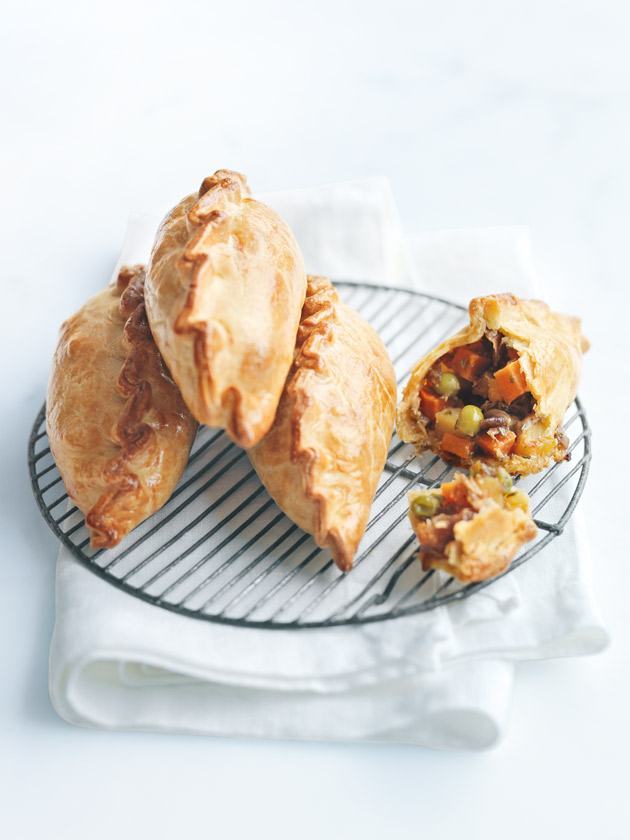 1 medium carrot, peeled and chopped

1 large parsnip, peeled and chopped

2 small sweet potatoes (kumara), peeled and chopped

1 tablespoon extra virgin olive oil

sea salt and cracked black pepper

½ cup (140g) store-bought caramelised onion relish

1 cup (120g) frozen peas

1½ tablespoons chopped rosemary

1½ cups (180g) grated aged cheddar

5 sheets store-bought shortcrust pastry, thawed

1 egg, lightly beaten

Preheat oven to 200°C (400°F). Place the carrot, parsnip and sweet potato on a baking tray. Drizzle with the oil and sprinkle with salt and pepper. Roast for 15–17 minutes or until cooked through.

Place the roasted vegetables in a bowl with the onion relish, peas, rosemary and cheddar. Cut 10 x 14cm rounds from the pastry. Place ¼ cup of the mixture in the centre of each round and brush the edges with egg. Fold the pastry over and pinch to seal. Place on a baking tray lined with non-stick baking paper and brush with egg. Bake for 20–25 minutes or until golden. Makes 10.

There are no comments for this entry yet.