roasted potatoes
with chimichurri sauce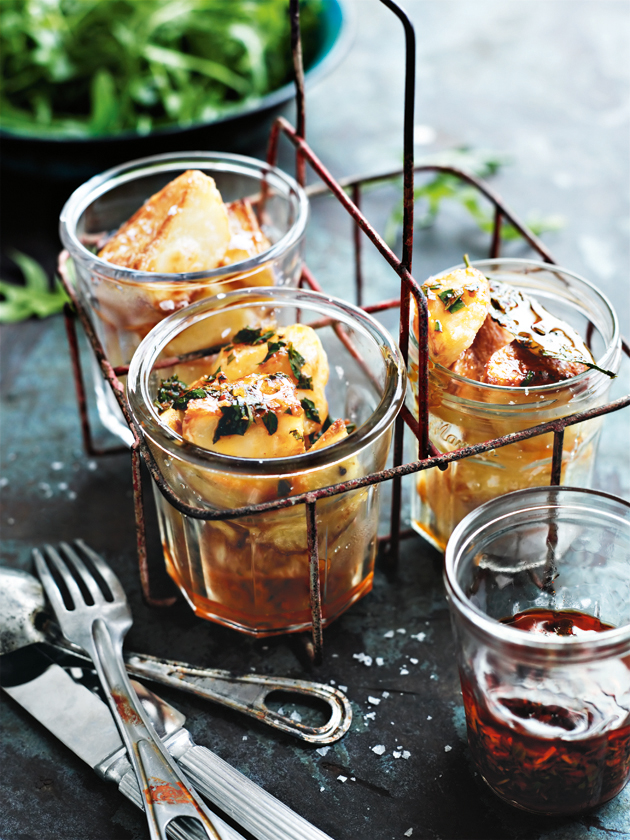 1.5kg large sebago (starchy) potatoes, peeled and chopped
2 tablespoons olive oil
sea salt and cracked black pepper
100g wild rocket (arugula) leaves, to serve
chimichurri sauce
⅓ cup chopped flat-leaf parsley
1 tablespoon chopped oregano
2 teaspoons chopped rosemary
1 teaspoon smoked paprika
½ teaspoon dried chilli flakes
1 clove garlic, crushed
1 bay leaf
3 tablespoons red wine vinegar
3 tablespoons olive oil
sea salt and cracked black pepper
To make the chimichurri sauce, place the parsley, oregano, rosemary, paprika, chilli flakes, garlic, bay leaf, vinegar, olive oil, salt and pepper in a bowl and mix to combine. Set aside. Preheat oven to 220°C (425°F).
Place the potato in a large saucepan of salted cold water over high heat and bring to the boil. Cook for 10 minutes or until the potato is just tender. Drain, return the potato to the pan and cook for 1 minute to remove excess moisture. Shake the pan to fluff the potato.
Place on a baking tray, drizzle with the olive oil, sprinkle with salt and pepper and roast for 40–45 minutes or until crisp and golden. Serve the potatoes with the chimichurri sauce and rocket leaves. Serves 4–6.

There are no comments for this entry yet.