rosemary and provolone seeded knots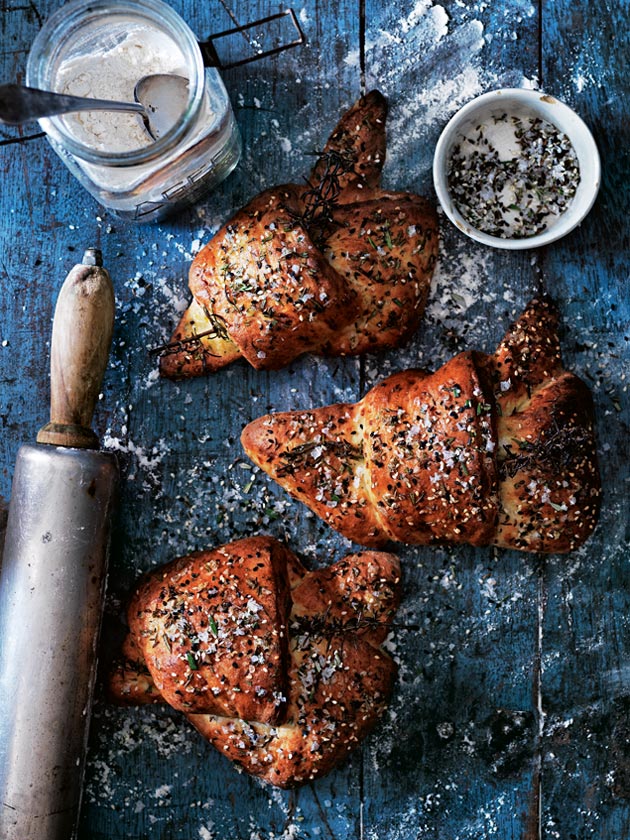 1 cup (250ml) warm water
2 teaspoons dried yeast
1 tablespoon caster (superfine) sugar
2½ cups (375g) plain (all-purpose) flour, plus extra for dusting
1 teaspoon sea salt flakes
½ cup rosemary leaves, finely chopped, plus 3 extra sprigs
1½ cups (150g) grated provolone cheese
water, extra, for brushing
SEED SPRINKLE
1 tablespoon finely chopped rosemary leaves
1 teaspoon white sesame seeds
1 teaspoon black sesame seeds
1 teaspoons caraway seeds
2 teaspoons sea salt flakes
To make the seed sprinkle, place the rosemary, sesame seeds, caraway seeds and salt in a small bowl and mix to combine. Set aside.
Preheat oven to 220°C (425°F). Place the water, yeast and sugar in a bowl and mix to combine. Set aside for 5 minutes or until the surface is foamy.
Place the flour, salt, rosemary leaves and cheese in a large bowl. Add the yeast mixture and mix to combine. Turn out onto a lightly floured surface and knead for 5 minutes or until smooth.
Place in a lightly greased bowl, cover with plastic wrap and set aside for 40 minutes or until doubled in size.
Punch out the air from the dough and roll out to a 40cm x 30cm rectangle. Cut lengthways into 3 x 10cm strips. Tie each strip into a knot and thread a sprig of rosemary through each.
Place on a lightly greased large oven tray lined with non-stick baking paper. Brush the knots with water and sprinkle with the seed mixture. Cook for 12–15 minutes or until golden brown. Serve. Makes 3.
There are no comments for this entry yet.
RELATED VIDEO