spicy nduja and cheese gozleme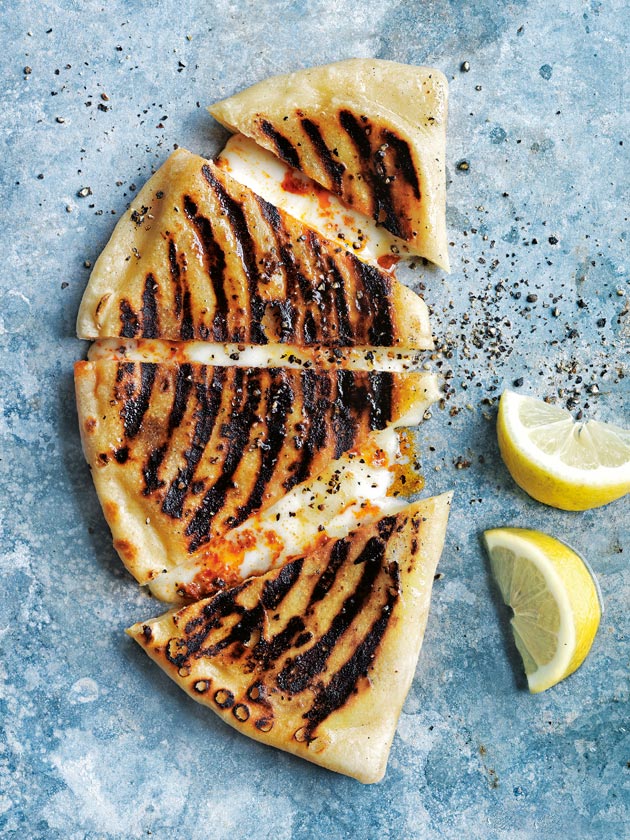 4 cups (600g) plain (all-purpose) flour

⅓ cup (80ml) extra virgin olive oil

⅓ cup (95g) natural Greek-style (thick) yoghurt

1 cup (250ml) water

1 teaspoon sea salt flakes

180g nduja+

2 cups (240g) grated vintage cheddar

300g stracchino cheese++, thinly sliced

2 tablespoons extra virgin olive oil

cracked black pepper, for sprinkling

lemon wedges, to serve

Place the flour, oil, yoghurt, water and salt in the bowl of an electric mixer fitted with a dough hook and beat for 3–4 minutes or until smooth. Turn out the dough onto a lightly floured work surface and knead for 2–3 minutes or until smooth and elastic.

Place in a large lightly greased bowl, cover with plastic wrap and set aside in a warm place for 30 minutes or until risen.

Preheat a lightly greased char-grill pan or barbecue to high heat. Divide the dough into 6 portions. Place each portion on a lightly floured surface and roll into 20cm x 28cm ovals.

With the shorter ends facing towards you, spread the bottom half of the ovals with the nduja and sprinkle with the cheddar and stracchino, leaving a 2cm border. Fold the top half of the dough over and press the edges to seal.

Brush the gozleme with the oil and cook, in batches, for 2–3 minutes or until charred. Turn over and cook for a further 1–2 minutes or until charred and cooked through. Sprinkle with pepper and serve with lemon wedges. Makes 6.

+ Nduja is a spicy spreadable Italian salami. It's available from delicatessens and specialty grocers. If you can't find it, you can substitute with finely chopped spicy salami.
++ Stracchino is a young Italian cow's milk cheese. Find it at delicatessens and cheese stores. Use mozzarella if unavailable.
cece e
Never made this before and my strengths in the kitchen are not bread making but this turned out wonderful. Instead of the cheese filling I fried beef mince, onion, garlic, cumin, cinnamon and a little tomatoe puree. It was so delicous. Also felt less bloated because the dough lacks yeast. Will be making this again.