taro and beetroot chips
with smoky coriander salt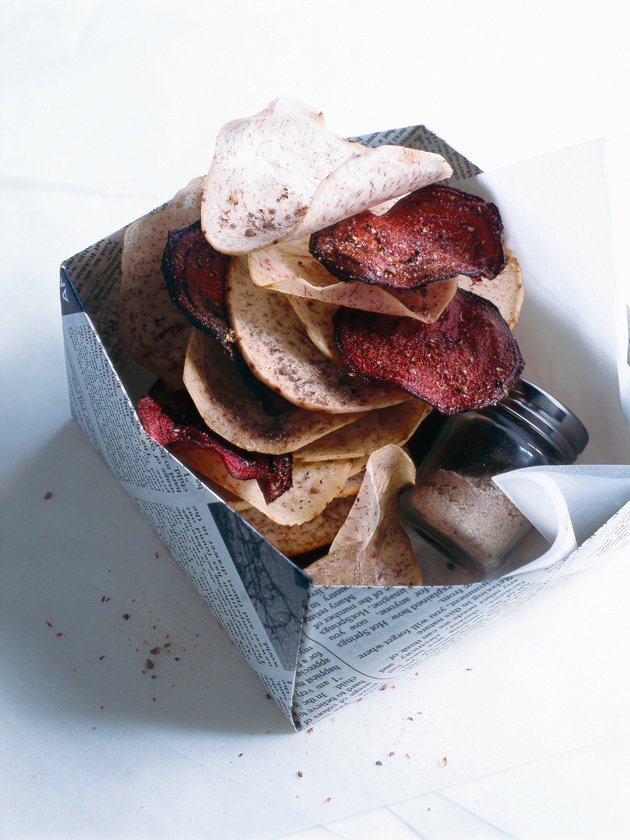 vegetable oil, for deep-frying
2 (500g) taro, peeled and thinly sliced
1 (300g) large beetroot, peeled and thinly sliced+
smoky coriander salt
¼ cup (125g) sea salt flakes
1 tablespoon coriander seeds

To make the smoky coriander salt, place the salt in a non-stick frying pan over high heat and cook for 4 minutes or until it begins to change colour. Add the coriander seeds and cook for a further minute or until fragrant. Process in a small food processor until combined. Set aside.

Heat the oil in a large, deep saucepan over medium heat until hot. Deep-fry the taro and beetroot, in batches, for 1–2 minutes or until golden and crispy. Drain on non-stick baking paper, sprinkle with the salt and serve immediately.

+ Beetroot tends to bleed and stain anything it touches when it's cut, so it's a good idea to wear gloves.
There are no comments for this entry yet.