tuna and avocado nori rolls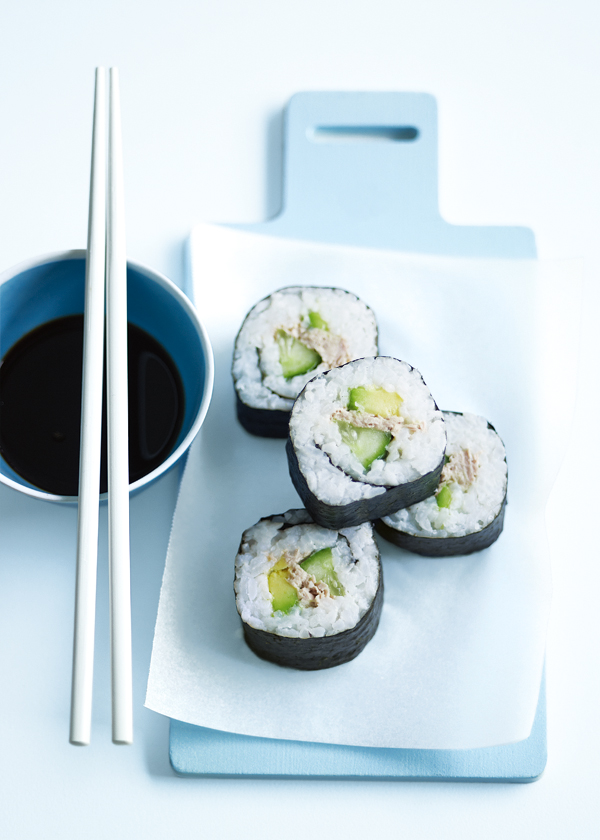 2 cups (400g) sushi rice+
3 cups (750ml) water
¼ cup (60ml) mirin+
1 tablespoon caster (superfine) sugar
¼ teaspoon sea salt flakes
1 x 185g can tuna, drained
1½ tablespoons whole-egg mayonnaise
4 sheets nori seaweed+
1 small Lebanese cucumber, quartered lengthways
½ avocado, sliced
soy sauce, to serve

Place the rice in a sieve and run under cold water for 2–3 minutes or until the water runs clear. Place the rice and water in a small saucepan over high heat and bring to the boil. Reduce heat to low, cover and cook for 10 minutes. Remove from heat and set aside for 10 minutes.
Place the mirin, sugar and salt in a bowl and mix to combine. Using a spatula, spread the rice out onto a tray, sprinkle with the mirin mixture and mix gently to combine. Allow to cool.
Place the tuna and mayonnaise in a bowl and mix to combine.
Place 1 nori sheet on a sushi mat and top with a ¼ of the rice. Spread the rice evenly over the nori sheet, leaving a 3cm border at the top of the sheet. Place a cucumber length, ¼ of the avocado and ¼ of the tuna at the base of the rice. Brush the nori border with water and use the mat to roll tightly. Press the border to seal. Repeat with remaining ingredients. Cut the rolls into 4 pieces and serve with soy sauce. Makes 16.

+ You can buy sushi rice, mirin and nori sheets from the Asian section of the supermarket. Find sushi mats at Asian grocery stores.

Tip: Use a wet, sharp knife to cut the sushi.

There are no comments for this entry yet.