snowy marshmallow mountains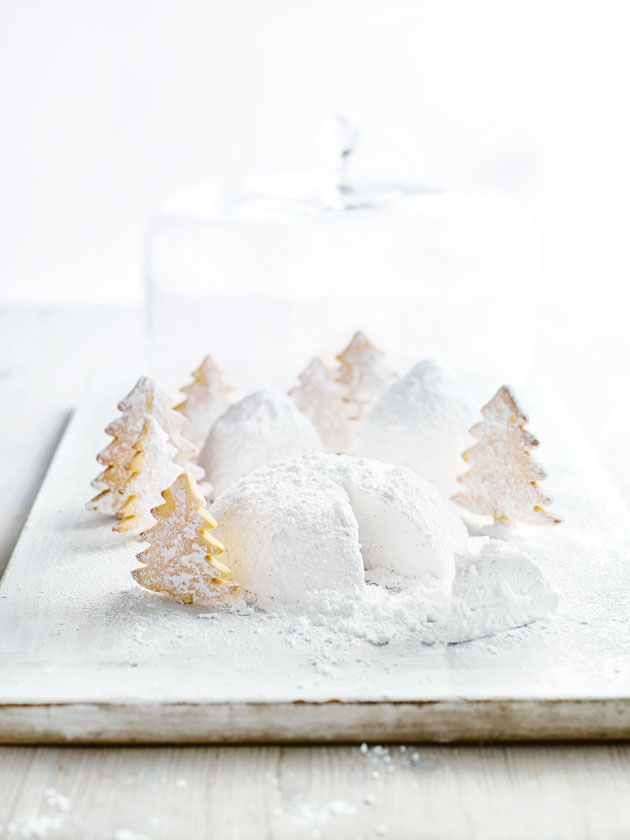 ½ cup (125ml) warm water

2 tablespoons gelatine powder

1½ cups (330g) caster (superfine) sugar

⅔ cup (230g) liquid glucose (see tip)

½ cup (125ml) water, extra

1 vanilla bean, split and seeds scraped

vanilla snap cookies
125g unsalted butter, softened

½ cup (110g) caster (superfine) sugar

1 egg

2 teaspoons vanilla extract

1½ cups (225g) plain (all-purpose) flour, sifted

icing sugar mixture
1½ cups (240g) icing (confectioner's) sugar, sifted

¼ cup (35g) cornflour (cornstarch), sifted

Line 3 small bowls with plastic wrap and set aside. Place the water in the bowl of an electric mixer, sprinkle with the gelatine and stir to combine. Set aside. Place the sugar, glucose and extra water in a medium saucepan over low heat and cook, stirring, until the sugar is dissolved. Increase the heat to high and bring to the boil. Add a sugar thermometer and cook, without stirring, for approximately 5–7 minutes, until the temperature reaches 115°C (239°F). With the electric mixer running on high speed, gradually add the hot syrup to the gelatine mixture in a thin steady stream. Add the vanilla seeds and whisk for 6 minutes or until the mixture is thick and fluffy. Working quickly, divide the mixture into bowls, pressing down with a spatula. Refrigerate for 1–2 hours or until set.

While the marshmallow is setting, make the vanilla snap cookies. Place the butter and sugar in the bowl of an electric mixer and beat for 8–10 minutes or until pale and creamy. Add the egg and vanilla and beat for a further 2–3 minutes or until well combined. Add the flour and beat until a smooth dough forms. Roll out the dough between two sheets of non-stick baking paper to 4mm thick. Refrigerate for 30 minutes or until firm. Preheat oven to 160°C (325°F). Using a 7.5cm and 9cm Christmas tree cutter, cut out 10 trees. Place on a large lightly greased baking tray lined with non-stick baking paper and bake for 8–10 minutes or until golden. Allow to cool slightly before transferring to wire racks to cool completely. To make the icing sugar mixture, place the icing sugar and cornflour in a bowl and mix to combine. Turn the marshmallow mountains out onto a surface lightly dusted with some of the icing sugar mixture. Peel away the plastic wrap and dust the marshmallow and trees with the remaining sugar mixture to decorate.

Tip: Liquid glucose is available from the baking aisle of most supermarkets.
There are no comments for this entry yet.