spiced sticky date, caramel and star-anise cakes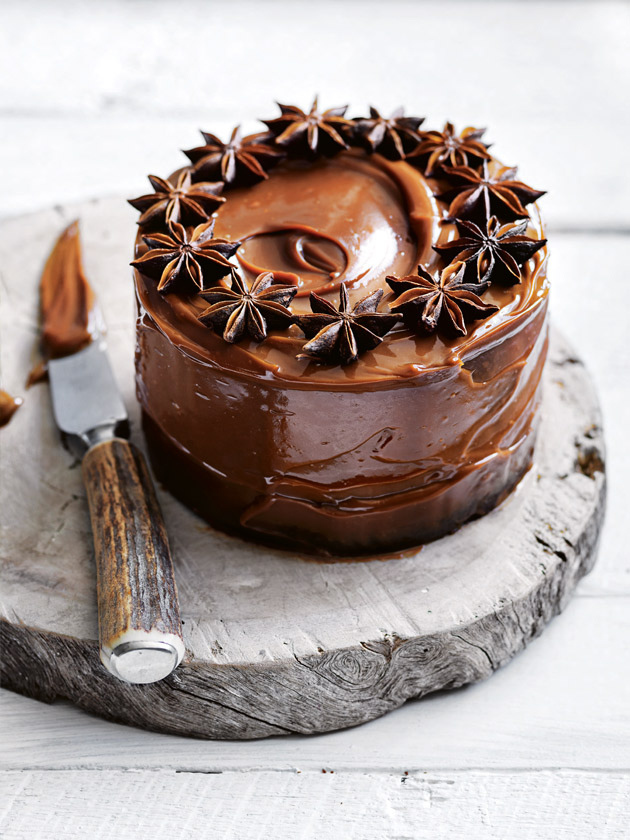 20 soft fresh dates (400g), pitted and chopped

1½ cups (375ml) boiling water

1½ teaspoons bicarbonate of (baking) soda

150g unsalted butter, chopped

1 cup (175g) light brown sugar

3 eggs

1½ cups (225g) self-raising (self-rising) flour

2 teaspoons ground cinnamon

2 teaspoons mixed spice

1⅓ cups (400g) store-bought thick caramel or dulce de leche

star-anise, for decorating

Preheat oven to 160°C (325°F). Line 2 x 12cm round cake tins with non-stick baking paper, allowing 2cm of paper to sit above the edges. Place the dates, water and bicarbonate of soda in a medium heatproof bowl and allow to soak for 10 minutes.

Place the date mixture, butter and sugar in a food processor and process until well combined. Add the eggs, flour, cinnamon and mixed spice and process until just combined. Divide the mixture between the tins. Bake for 55 minutes – 1 hour or until cooked when tested with a skewer. Allow to cool in the tins for 10 minutes before turning out onto a wire rack to cool completely.

Trim the tops from the cakes, using a large serrated knife. Place each cake onto a cake stand or plate. Using a small palette knife, spread the caramel evenly over the top and sides of the cakes. Decorate with star-anise+. Serves 6–8

+ The star-anise in this recipe are simply for decoration – you can remove them from the cakes before eating.
donna hay team
Hi Chrissy, the cake tin should be 2 x 12cm round cake tins as the recipe suggests. We do however say in the recipe to line the tin 2cm above the rim of the cake as it is a generous amount of cake batter to bake a tall cake. The DH team
Hanri Delanty
I found that the mixture didn't fit into 2 x 12cm tins, is this right?
Chrissy Denison
Can someone please confirm the Tin size? I think there is too much mix for 2x13. I made 3x 10 and 1 x20. tastes amazing anyway.