cinnamon churros doughnuts
with sticky maple syrup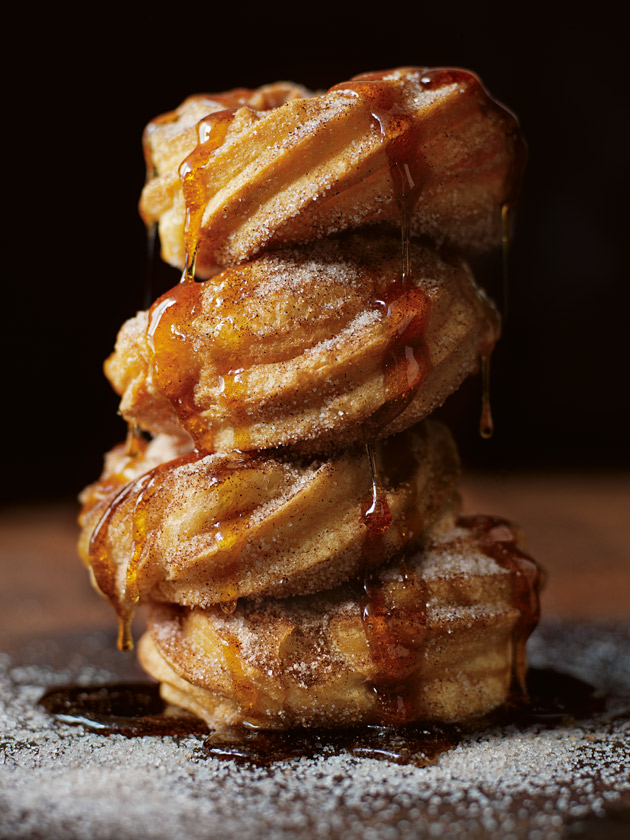 1 cup (220g) white (granulated) sugar

1 teaspoon ground cinnamon

100g unsalted butter, chopped

1 cup (250ml) water

1 cup (150g) plain (all-purpose) flour

3 eggs

vegetable oil, for deep-frying

¾ cup (180ml) maple syrup

Place the sugar and cinnamon in a small, shallow tray and mix to combine. Set aside.
Place the butter and water in a medium saucepan over high heat and bring to the boil. Reduce heat to low, add the flour and beat with a wooden spoon for 2 minutes or until the mixture is smooth and comes away from the sides of the pan.
Remove from heat and transfer the mixture to the bowl of a stand mixer. Add the eggs, 1 at a time, beating well after each addition until the mixture is glossy and smooth.
Spoon the mixture into a piping bag fitted with a 1.5cm star-shaped nozzle. Line a baking tray with non-stick baking paper and lightly grease the paper. Pipe the mixture into 8 circles onto the prepared tray.
Fill a large saucepan halfway with oil, place over high heat and heat until temperature reaches 180°C (350°F) on a deep-frying thermometer. Carefully add the circles, in batches, and cook, turning occasionally, for 4–5 minutes or until puffed and golden.
Remove with a slotted spoon and drain well. While still hot, toss in the cinnamon sugar.
Place the maple syrup in a small saucepan over high heat. Bring to the boil and cook for 3 minutes or until reduced slightly. Spoon the maple over the churros to serve. Makes 8.
donna hay team
Hi Janelle, we recommend to serve these while they are hot and delicious, but if you prefer, you can have them at room temperature. Enjoy!
Janelle Hopman
Hi there team. Could these be made prior and then served at room temperature or would they lose crunch and appeal? Thanks heaps