chocolate fudge cake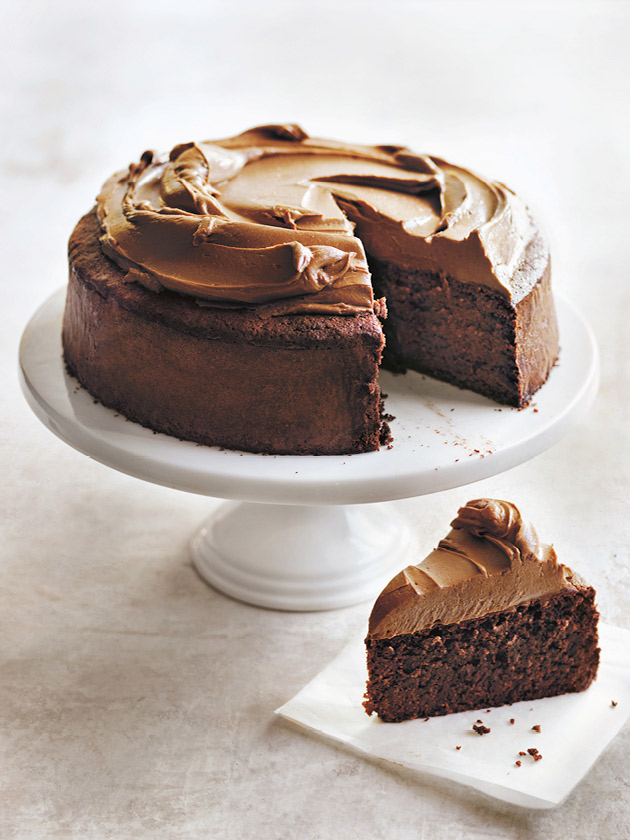 200g unsalted butter, chopped

2 teaspoons vanilla extract

¾ cup (75g) raw cacao or cocoa powder

10 soft fresh dates (200g), pitted

⅓ cup (80ml) maple syrup

6 eggs (crack, crack!)

½ cup (70g) coconut sugar

1 cup (120g) almond meal (ground almonds)

fluffy frosting
½ cup (120g) cream cheese, softened

1 cup (240g) fresh firm ricotta

½ cup (70g) coconut sugar

⅓ cup (35g) raw cacao or cocoa powder

2 teaspoons vanilla extract

Preheat oven to 150°C (300°F). Line a 20cm round springform cake tin with non-stick baking paper. Place the butter and vanilla in a small saucepan. Using a sifter or sieve, sift in the cacao. Place the pan over low heat and stir with a spatula until smooth. Allow to cool slightly.
Place the dates and maple in a food processor and top with the cooled butter mixture. Process until smooth, then transfer to a big bowl, scraping the mixture in with a spatula. Break the eggs into the bowl of an electric mixer. Add the sugar and whisk on high speed for 6–7 minutes or until tripled in volume (it's ready when the whisk is lifted and a thick ribbon of mixture holds its shape on top for a moment).
Add one-third of the egg mixture to the bowl with the chocolate mixture. Using your spatula, gently fold it in to combine. Add the almond meal and the remaining egg mixture and gently fold to combine.

Pour the mixture into the prepared tin, scraping the sides of the bowl, and bake for 55 minutes or until set (if tested, a skewer won't come out clean – this clever cake gets fudgier in the middle as it cools). Wearing oven gloves, remove the cake from the oven and allow to cool in the tin.
While the cake is cooling, make the fluffy frosting. Place the cream cheese and ricotta in the (cleaned and dried) food processor and process until smooth. Add the sugar, cacao and vanilla and pulse until combined. Transfer to a medium bowl, scraping the mixture in with a spatula, and place in the fridge until ready to use.

Release the cooled cake from its tin and place onto a cake stand or serving plate. Using a palette knife, spread the top and sides of the cake with the fluffy frosting and slice to serve. Serves 12–14.
There are no comments for this entry yet.