fruit mince pies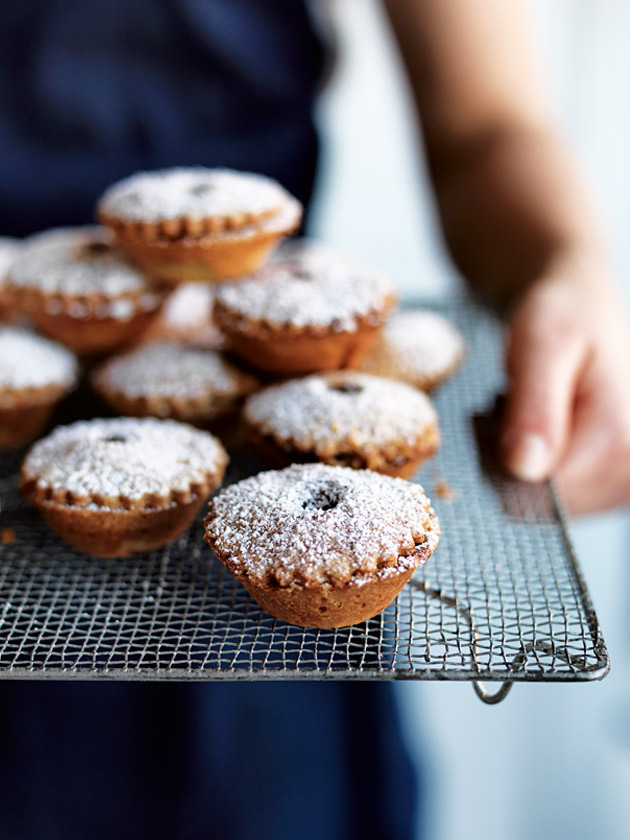 1 Granny Smith (green) apple, peeled and grated

⅔ cup (110g) dried currants

¾ cup (120g) sultanas

½ cup (70g) slivered almonds

⅔ cup (110g) mixed peel

⅓ cup (80ml) maple syrup

½ cup (90g) light brown sugar

60g unsalted butter, chopped

⅓ cup (80ml) butterscotch schnapps or sherry

1 egg, lightly beaten

white (granulated) sugar, for sprinkling

icing (confectioner's) sugar, for dusting

spiced brown sugar pastry
2⅔ cups (400g) plain (all-purpose) flour, plus extra for dusting

300g cold unsalted butter, chopped

½ cup (90g) light brown sugar

½ teaspoon ground ginger

½ teaspoon ground cinnamon

2 eggs

2 teaspoons vanilla extract

To make the spiced brown sugar pastry, place the flour, butter, sugar, ginger and cinnamon in a food processor and process in short bursts until the mixture resembles coarse breadcrumbs. Add the eggs and vanilla and process until the pastry comes together. Turn out onto a generously floured bench and, using your hands, bring the dough together and divide it in half. Generously dust 4 sheets of non-stick baking paper with flour. Roll out each piece of dough between 2 sheets of the paper to 5mm thick. Refrigerate for 30 minutes.

Preheat oven to 160°C (325°F). Place the apple, currants, sultanas, almonds, mixed peel, maple syrup, brown sugar, butter and schnapps in a medium saucepan over medium heat and cook, stirring occasionally, for 15 minutes or until the fruit is softened and the liquid is absorbed. Set aside to cool completely.

Lightly grease 24 x 2-tablespoon-capacity patty tins. Using a 7cm round cookie cutter lightly dusted in flour, cut 24 rounds from the dough and use them to line the tins. Re-roll the remaining dough between 2 generously floured sheets of non-stick baking paper to 5mm thick. Refrigerate for a further 15 minutes.

Divide the cooled fruit mixture between the pastry cases and brush the edges of the cases with egg. Using a 7cm fluted cookie cutter lightly dusted in flour, cut 24 rounds from the remaining dough. Using a 1cm round piping nozzle, cut a hole in the centre of each round.

Top the pies with the fluted rounds and press the edges to seal. Brush the tops with egg and sprinkle with the white sugar. Bake for 25–30 minutes or until golden.

Allow the pies to cool in the tins for 5 minutes before turning out onto wire racks to cool completely. Dust with icing sugar to serve. Makes 24

COOK'S TIPS
+ We use both white, or granulated, sugar and icing, or confectioner's, sugar for dusting – the white sugar before baking adds a lovely crunch and the icing sugar adds extra sweetness.
+ When making the pastry rounds, be sure to dust the cutters with flour. It makes cutting and lifting a breeze.
There are no comments for this entry yet.
RELATED VIDEO