tarragon and brandy braised onion and chicken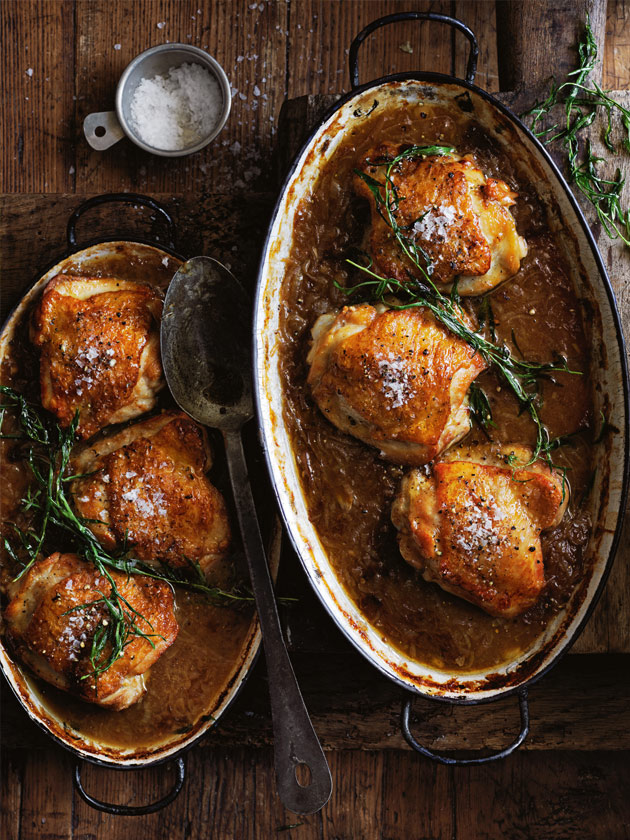 50g unsalted butter, chopped

1kg onions, thinly sliced into rounds using a large sharp knife or mandoline

sea salt and cracked black pepper

3 cloves garlic, thinly sliced

2 tablespoons brown sugar

1 tablespoon plain (all-purpose) flour

2 tablespoons balsamic vinegar

⅓ cup (80ml) brandy

3 cups (750ml) chicken stock

2 teaspoons extra virgin olive oil

6 chicken thighs (about 1.4kg), skin on and bone in

6 sprigs tarragon

Preheat oven to 220°C (425°F). Melt the butter in a large heavy-based flameproof ovenproof shallow saucepan over medium heat. Add the onion, salt and pepper, cover, and cook, stirring occasionally, for 20–25 minutes or until golden brown. Add the garlic, sugar and flour, and cook, stirring constantly, for 3–4 minutes or until caramelised. Increase heat to high.
Add the vinegar and brandy and cook for 2 minutes or until reduced slightly. Add the stock and bring to the boil.
While the onion mixture is cooking, heat the oil in a large non-stick frying pan over high heat. Sprinkle the chicken skin with salt and pepper and cook, skin-side down, for 4–5 minutes or until golden brown. Place on top of the onions, skin-side up, and cook in the oven for 15 minutes.
Add the tarragon and cook for a further 5 minutes or until the chicken is dark golden brown and cooked through. Sprinkle with salt and pepper to serve. Serves 6.

David Beecroft
Easy to follow recipe. Super, super tasty. It's basically making a French onion soup and then serving it with chicken. Great flavour combination. Plus it's really inexpensive as well.
Tags:
balsamic vinegar
,
brandy
,
chicken
,
dinner
,
easy weeknights
,
garlic
,
quick fix
,
roast dinner
,
sunday roast
,
tarragon
,