spiced honey fingers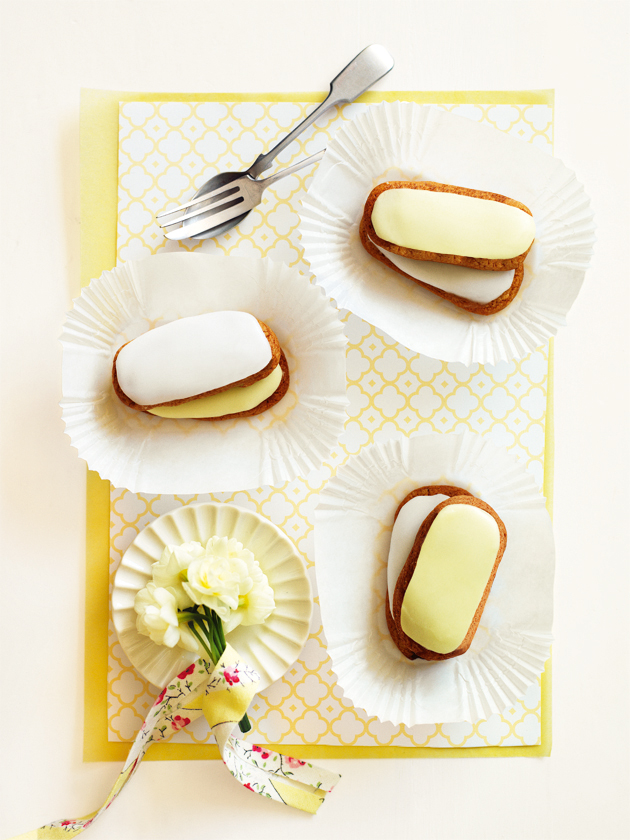 20g butter
¼ cup (90g) honey
½ cup (75g) plain (all-purpose) flour
¼ teaspoon bicarbonate of (baking) soda
½ teaspoon each ground ginger and mixed spice
2 teaspoons milk
2½ cups (400g) icing (confectioner's) sugar
1½ tablespoons boiling water
yellow food colouring

Preheat oven to 180ºC (350ºF). Place the butter and honey in a small saucepan over low heat. Bring to the boil and simmer for 2 minutes. Allow to cool slightly. Sift the flour, bicarbonate of soda, ginger and mixed spice over the butter mixture and mix to combine. Gradually add the milk, stirring, until well combined and the mixture has formed a dough. Set aside to cool.
Turn dough out onto a lightly floured surface and knead until smooth. Roll into 2 x 36cm-long logs and cut into 6cm lengths, tucking the edges under to form rounded edges. Place on a baking tray lined with non-stick baking paper and bake for 8–10 minutes or until the biscuits begin to crack. Allow to cool on a wire rack.
Place the icing sugar and water in a bowl and mix until smooth. Divide between 2 bowls, add a few drops of food colouring to one bowl and combine. Spread half the biscuits with yellow icing and the remaining biscuits with the plain icing. Makes 12.

There are no comments for this entry yet.