spinach and feta rolls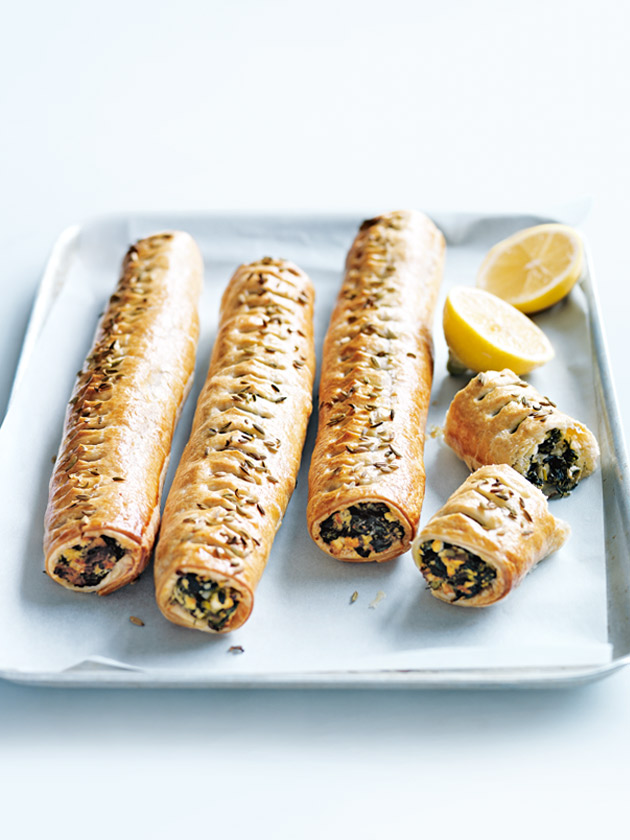 500g frozen spinach, thawed and well drained
200g feta, crumbled
¼ cup finely chopped dill
3 spring onions, thinly sliced
1 cup (70g) fresh breadcrumbs
sea salt and cracked black pepper
2 sheets frozen puff pastry, thawed and cut in half
1 egg, lightly beaten
fennel seeds, for sprinkling
lemon wedges, to serve
Preheat oven to 200°C. Place the spinach, feta, dill, spring onion, breadcrumbs, salt and pepper in a bowl and mix well to combine.
Divide the spinach mixture into 4 even portions and roll into sausage shapes. Place down the centre of each pastry half and brush the edges with egg. Roll to enclose, ensuring the seam is underneath, and cut each roll in half.
Place on baking trays lined with non-stick baking paper, brush with egg and sprinkle with fennel. Using a small, sharp knife, make slits in the rolls and bake for 25 minutes or until golden. Serve with lemon. Serves 4.
Shannon Batson
This is a staple in our house, we make them least once a month, yum! They freeze really well too.