basic chicken stock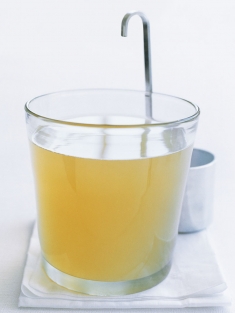 1.5kg chicken bones, with some meat on

2 onions, halved

2 carrots, halved

2 sticks celery, chopped

8 litres water

8 black peppercorns

4 stalks flat-leaf parsley

2 bay leaves

sea salt flakes

Preheat oven to 200°C (400ºF). Place the chicken bones, onion, carrot and celery in a large baking dish and bake for 1 hour or until well browned. Transfer to a stockpot or large saucepan with the water, peppercorns, parsley and bay leaves. Bring to the boil and allow to simmer rapidly, uncovered.

Reduce the heat so that the stock simmers slowly but constantly. Skim the surface of the stock with a spoon occasionally so that it remains clear. Simmer for 1½ hours or until the stock is well flavoured. Add a generous amount of salt to bring out the flavour.

Strain the stock through a fine sieve. Allow to cool, then remove any solidified fat from the surface. Refrigerate the stock for up to 3 days or freeze in ready-to-use portions. Makes 4 litres.

For beef or veal stock Replace the chicken bones in the recipe with 1.5kg chopped brisket or good beef or veal bones (ask your butcher to chop them for you). Place in a baking dish, brush with oil, then continue as for the chicken stock.
For vegetable stock Follow the chicken stock recipe, but omit the chicken bones. As well as the vegetables included in the recipe, add 2 chopped leeks and 2 cups sliced mushrooms to the stockpot with the required amount of water.
For fish stock Replace the chicken bones in the recipe with the heads and bones of 3 small fish such as snapper. Do not roast the fish bones or vegetables – follow the stock recipe from step 2, adding all of the ingredients plus 1 cup (250ml) dry white wine. Simmer for 20 minutes (any longer and the stock will become sour), then strain through muslin or a very fine sieve.
There are no comments for this entry yet.