sweet potato and chilli hash brown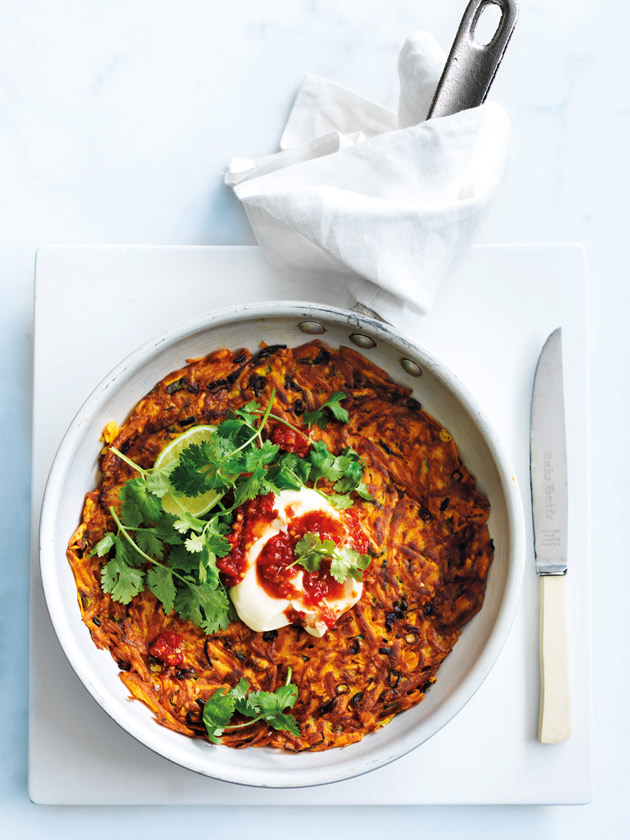 500g sweet potato, peeled and grated

3 spring onions, thinly sliced

¼ teaspoon dried chilli flakes

1 egg

2 teaspoons sea salt flakes

cracked black pepper

1 teaspoon sesame oil

2 tablespoons vegetable oil

coriander leaves, lime wedges, whole-egg mayonnaise and store-bought chilli relish, to serve

Place the sweet potato, spring onion, chilli, egg, salt, pepper and sesame oil in a large bowl and mix to combine.

Heat the vegetable oil in a large non-stick frying pan over medium heat. Add the sweet potato mixture, flatten and cook for 6–8 minutes.

Carefully turn out+, return to the pan and cook on the other side for a further 6–8 minutes or until golden brown and cooked through.

Remove from the pan, cut into wedges and serve with coriander, lime, mayonnaise and chilli relish. Serves 4.

+ To turn out the sweet potato hash brown, place a plate or round tray on top of the frying pan and flip over. Slide the hash brown back into the pan.
There are no comments for this entry yet.