star cookies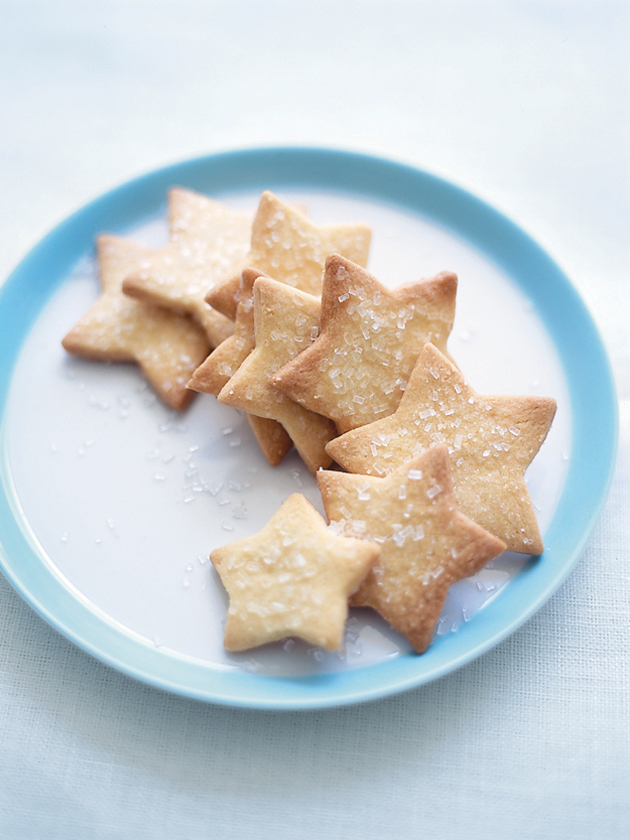 250g butter
¾ cup (165g) caster (superfine) sugar
2 teaspoons vanilla extract
1 egg yolk
2¼ cups (335g) plain (all-purpose) flour, sifted
½ cup clear sanding sugar*

Preheat oven to 180°C (355°F). Place the butter and sugar in an electric mixer and beat until pale and creamy. Add the vanilla and egg yolk and beat well to combine. Add the flour and beat until a smooth dough forms. Divide the dough into 4 portions and wrap each portion in plastic wrap. Place in the refrigerator for 15 minutes or until the dough is firm.

Roll out each portion of dough between 2 sheets of non-stick baking paper until 3mm thick. Remove the baking paper and use a 7cm star-shaped cookie cutter to cut out 8 rounds from each sheet. Place the cookies on baking trays lined with baking paper, sprinkle with the clear sanding sugar and bake for 8 minutes or until the cookies are light golden. Cool on wire racks. Makes 32.

* Sanding sugar has large coarse granules. It is used to decorate cakes and biscuits.
vanessa rodrigues
These are the best cookies I've ever eaten. They are very very popular with all my family and friends and so easy to make. Love love them. I've also tried flavour variations with Chia and Matcha and they were awesome.
donna hay team
Hi Anna, as the recipe has not been tested with oil and water-based flavourings, they may affect the texture of the biscuits. However, you could start by adding citrus zests and dried spices. Many thanks, DH team.
Anna Searle
Hello DH team, This is my go to recipe and I always flavour with vanilla. Wondering, what would the adjustments be if I was to use peppermint oil, rose water, elderflower or orange blossom water?
donna hay team
Hi Jessica, yes you can freeze the unbaked dough and bake them from frozen or freeze cooked versions. The unbaked dough will keep for up to 2 weeks and the baked for 3 weeks in the freezer. The DH team x
Jessica Smith
How long can these be stored for? I want to bake them as Christmas presents about ten days before gifting them to people, so should I store them in the freezer to keep them?