caramel cheesecake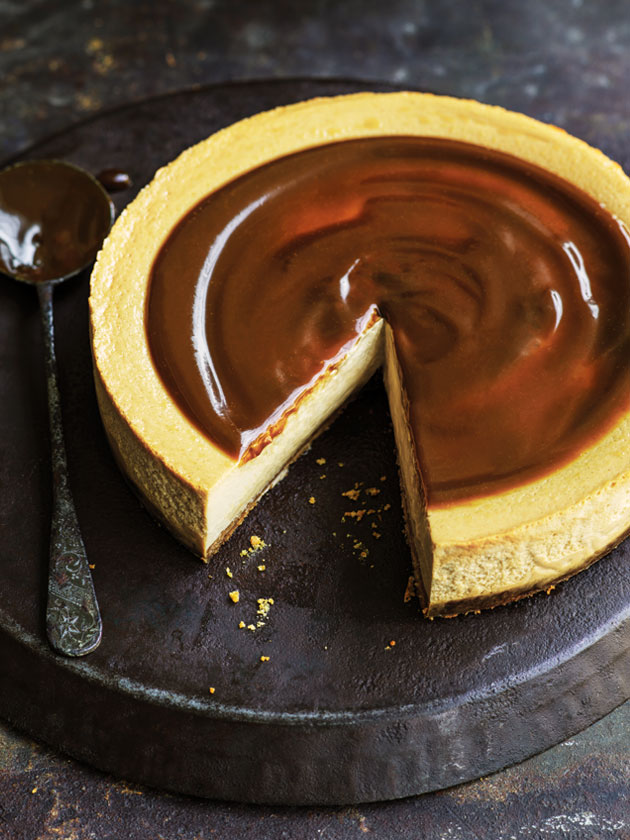 1 cup (120g) almond meal
2 tablespoons coconut sugar
¼ cup (40g) brown rice flour
80g unsalted butter, melted
filling
450g fresh ricotta
250g cream cheese, chopped
1 cup (150g) coconut sugar
4 eggs
2 teaspoons vanilla extract
1 tablespoon cornflour
1 tablespoon water
1 cup (280g) natural Greek-style (thick) yoghurt
sea salt flakes, for sprinkling
caramel sauce
1 cup (250ml) coconut cream
1 cup (150g) coconut sugar
Preheat oven to 180°C

(350°F)

. To make the base, place the almonds, coconut sugar, rice flour and butter in a bowl and mix to combine. Press the mixture into the base of a lightly greased 22cm springform cake tin lined with non-stick baking paper. Bake for 15 minutes or until golden, then set aside.
Reduce oven temperature to 140°C (280°F). Place the ricotta and cream cheese in a food processor and process until smooth. Add the sugar, eggs and vanilla, and process until just combined. Mix together the cornflour and water until smooth and add to the mixture. Process until combined. Add the yoghurt and stir to combine – do not overmix.
Pour the mixture over the base. Bake for 45 minutes or until the outside is set but the middle is very wobbly. Allow to cool for 30 minutes then refrigerate for 3 hours or until set.
To make the caramel sauce, place the coconut cream and sugar in a saucepan over low heat and stir until the sugar is dissolved. Increase heat to high, bring to the boil and cook for 5–7 minutes or until thickened. Set aside and allow to cool.

Spread the top of the cheesecake with the caramel

sauce and serve. Serves 10-12

Tips + Tricks:
Unrefined coconut sugar gives this cheesecake the perfect amount of mild coconut flavour with butterscotch and caramel tones. The magic combo of coconut sugar and coconut cream makes for the most glossy and velvety caramel topping.
Photography: William Meppem

There are no comments for this entry yet.