chocolate mousse cake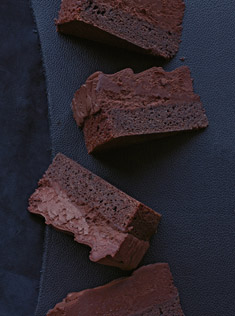 1 cup (120g) almond meal (ground almonds)

1⅔ cup (270g) icing (confectioner's) sugar, sifted

½ cup (75g) plain (all-purpose) flour, sifted

¼ cup (25g) cocoa, sifted

½ teaspoon baking powder, sifted

5 eggwhites

200g butter, melted

chocolate mousse filling
400g dark chocolate, chopped

100g 70 per cent dark chocolate+, chopped

1 vanilla bean, split and seeds scraped

2 cups (500ml) single (pouring) cream, whipped

Preheat oven to 160ºC (325ºF). Place the almond meal, icing sugar, flour, cocoa and baking powder in a bowl and stir to combine. Add the eggwhites and butter and stir to combine. Pour the mixture into a lightly greased 22cm round springform cake tin lined with non-stick baking paper. Bake for 30–35 minutes or until cake is springy to touch and comes away from the sides of the tin. Turn out onto a wire rack to cool.

Once cooled, use a serrated knife to trim the top off the cake. Line the tin with plastic wrap. Place the cake in the base of the tin. Set aside.

To make the chocolate mousse filling, place the chocolate and vanilla seeds in a heatproof bowl over a saucepan of simmering water and stir until melted and smooth. Set aside to cool slightly. Fold the chocolate mixture through the cream until well combined. Spoon the mousse over the cake base. Refrigerate for 2 hours or until set. Carefully remove the tin and plastic wrap to serve. Serves 6–8.

recipe notes:
flavour While the base and the topping both contain chocolate, they are different in flavour. The base is similar to a frangipane (ground almonds and sugar) and has a nice sweetness, which is contrasted with the bitter flavour of the mousse, owing to 70 per cent dark chocolate.

assembly To layer the chocolate mousse cake, firstly trim the top of the cake to make a flat surface. Hold one hand down gently on top of the cake and, using a serrated knife, slice off the uneven surface. Line the empty tin with plastic wrap – this will make it easier to remove the mousse cake – and return the cake to the tin. Spoon the mousse over the cake base and smooth with an icing spatula or palette knife.

serving The cake should be served completely chilled. Remove the springfrom tin and gently peel the plastic wrap off the sides. Use a palette knife to slide the cake onto a serving platter.
+ The flavour of chocolate depends on the percentage of cocoa solids in the chocolate. Dark chocolate usually contains between 54–57 per cent cocoa solids, while more bitter chocolate has 64 per cent or higher. It's important to use the chocolate specified in the recipe; the quality and flavour will give you the desired richness and result. We've used seventy per cent cocoa chocolate in some of the cakes because it has the right amount of bitterness for the recipes.
Nadia Kelly
I made this for a dinner party and it was delicious, loved by all. It tasted like a ferrero roche cake. I will definitely be making this again !