classic baked cheesecake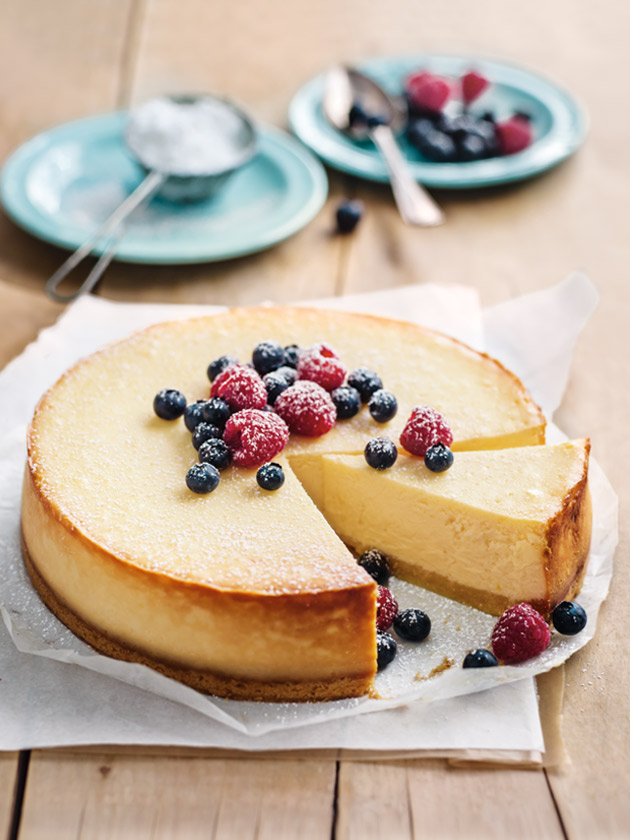 1 cup (150g) plain (all-purpose) flour

¼ cup (55g) caster (superfine) sugar

100g unsalted butter, chopped

filling
1⅓ cups (295g) caster (superfine) sugar

330g cream cheese, chopped softened

½ teaspoon vanilla extract

¼ cup (60ml) lemon juice

2 tablespoons finely grated lemon rind

500g fresh ricotta

5 eggs

1½ tablespoons cornflour (cornstarch)

1½ tablespoons water
mixed berries, to serve
icing (confectioner's) sugar, for dusting

Preheat oven to 150°C (300°F). Place the flour, sugar and butter in the bowl of a food processor and process for one minute or until a rough dough forms. Using the back of a spoon, press the mixture into the base of a lightly greased 20cm round springform tin lined with non-stick baking paper.

Bake the base for 25 minutes or until golden and just cooked. Set aside. To make the filling, place the sugar, cream cheese, vanilla, lemon juice, lemon rind, ricotta and eggs in a food processor and process until smooth.

Place the cornflour and water in bowl and mix until smooth. Add the cornflour mixture to the cream cheese mixture and mix to combine. Pour the mixture over the cooked base, tap gently to remove any air bubbles and bake for 40 minutes or until light golden and just set.

Turn the oven off and allow to cool for 40 minutes in the oven with the door closed. Refrigerate for 1 hour or until cold. Top with berries and dust in icing sugar to serve. Serves 8–10
Cat G
Hi, this cheesecake is amazing and a go ti fir years.
It's important to get your ingredients out as early as possible and work with them at room temp, otherwise you will end up with clumpy grainy mixture thats not fully dissolved.
As for cracks, I find cooking it for a few minutes less, works.
Thanx DH xx
donna hay team
Hi Susannah, a grainy cheesecake could be caused if the ricotta has not been processed long enough in the food processor. However, some ricotta can be naturally grainer than others. We recommend using fresh ricotta. As mentioned, our recipes are tested in a fan-forced oven. If you are using a normal oven, keep an eye on the cheesecake as the cooking time may vary. The DH Team
donna hay team
Hi Susannah, a grainy cheesecake could be caused if the ricotta has not been processed long enough in the food processor. However, some ricotta can be naturally grainer than others. We recommend using fresh ricotta. As mentioned, our recipes are tested in a fan-forced oven. If you are using a normal oven, keep an eye on the cheesecake as the cooking time may vary. The DH Team
donna hay team
Hi Susannah, a grainy cheesecake could be caused if the ricotta has not been processed long enough in the food processor. However, some ricotta can be naturally grainer than others. We recommend using fresh ricotta. As mentioned, our recipes are tested in a fan-forced oven. If you are using a normal oven, keep an eye on the cheesecake as the cooking time may vary. The DH Team
Susannah Kelly
Hi Donna and team! I made your baked cheese cake today and it turned out grainy. Is that because of the ricotta cheese? Or the cream cheese being cold? I also cooked it at 150 in a normal oven,. I just looked at your comments page and you have said previously that the oven was fan forced. Should I cook it at 130 normal?
Yasmin M
I'm only reviewing because I have yet to taste cheesecake more delicious and melt-in-the-mouth. I only had a limited amount of ingredients, so I halved the recipe. But baked it longer than half the time. It tastes even better after a few days! Def my go-to recipe now. Might consider adding raspberry/strawberry purée or lemon curd, or even fresh pineapples next time round.
donna hay team
Hi Michelle, we haven't tested this so we can't guarantee it will turn out the same. Let us know how you go! The DH Team.
donna hay team
Hi Mandeep, you can buy fresh ricotta at your local supermarket. The DH Team.
donna hay team
Hi Tania, yes, we used a fan forced oven to test this recipe. The DH Team
Tania Cavaiuolo
Question - is the oven temperature of 150oC for fan forced? Planning to bake this weekend.
donna hay team
Hi Cathy, we're glad you like it. This one can be made 1-2 days head of time if kept refrigerated. Best wishes, The DH Team.
Mandeep Kaur
Where can buy fresh ricotta.
Michelle Drought
Hi Donna, I need to make the cheesecake to serve 25. I thought that I could double the recipe and allow extra time for cooking. Would cooking it for an hour be enough and then following the cooling instructions?
Cathy Slaveski
Hi there, I've made this cake a few times and it's great - thank you! Just wondering how far ahead of time it can be made and what's the best way to store it?
donna hay team
Hi there, Tegan! Thanks for your question. The cheesecake will start to crack in the oven if it is cooked too long. The wobble should be quite generous, because the cake will continue to cook and set while sitting in the warm oven that has been turned off. Hope this solves the problem for you! The DH Team.
Jane Walton
Donna I have always loved baked cheese cakes but never made one. Bingo with your recipe, I made it for Easter along with your Raspberry Coconut Ice, the crowd went crazy for both, Thanks , Your are on my go to list of Chefs for sure, Jane
Tegan McCallum
I've made this cheesecake twice now, taste is delicious but each time the cake had cracked. Why does this happen? I've never made baked cheesecakes veggie this one.
donna hay team
Hello Ariane, you reason you may have lumps in your mixture is if the cream cheese was not soft enough (particularly if it has come straight out of the fridge). Many thanks, DH team.
Ariane Kyras
I have made this cheesecake before and it turned out perfect. I made it again last night and the mixture was lumpy and I could not get rid of the lumps. Could it be because the ricotta wasn't fresh enough? Thank you.
Hanisah Tucker
I followed the recipe to the T and it worked perfectly! Just the right about of zest and so deliciously creamy. Thank you for the recipe!