classic sponge cake with jam and cream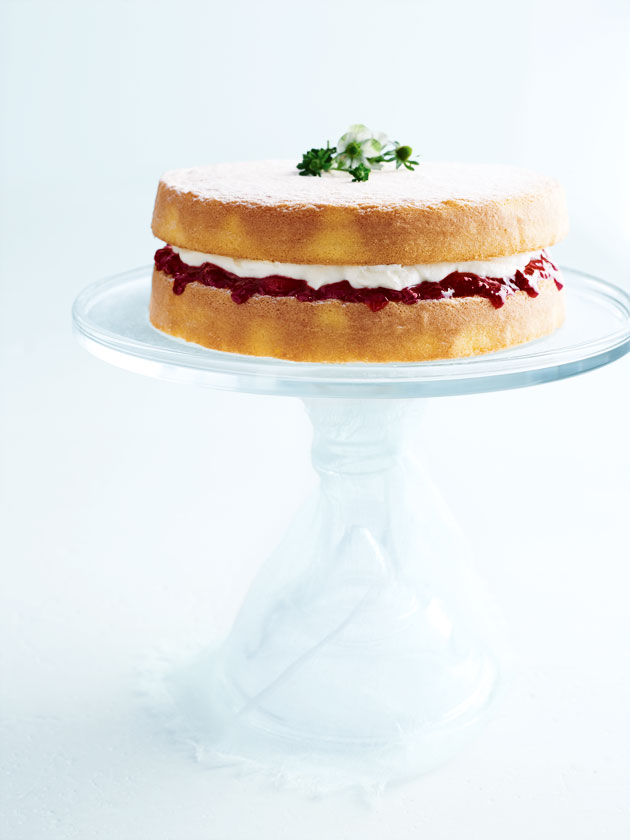 ⅔ cup (100g) plain (all-purpose) flour

½ teaspoon baking powder

4 eggs

½ cup (110g) caster (superfine) sugar

75g unsalted butter, melted and cooled

½ cup (125ml) single (pouring) cream

icing (confectioner's) sugar, for dusting

quick strawberry jam
500g strawberries, hulled and roughly chopped

½ cup (110g) caster (superfine) sugar

1 vanilla bean, split and seeds scraped

1 tablespoon white balsamic vinegar

Preheat oven to 180°C (350°F). Lightly grease 2 x 20cm-round shallow cake tins and line them with non-stick baking paper. To make the quick strawberry jam, heat a large non-stick frying pan over medium heat. Add the strawberries, sugar, vanilla bean and seeds and stir until the strawberries start to soften and release liquid. Bring to the boil and cook, stirring occasionally, for 14–18 minutes or until thickened. Add the vinegar and stir well to combine. Remove from the heat, discarding the vanilla bean and allow to cool completely. Refrigerate until cold.
Sift the flour and baking powder three times and set aside. Place the eggs and sugar in an electric mixer and whisk on high speed for 12–15 minutes or until pale, thick and tripled in volume. Sift half the flour mixture over the egg mixture and using a large metal spoon, gently fold to combine. Repeat with the remaining flour. Add the butter and gently fold to combine.
Divide the mixture between the tins and gently smooth the tops with a palette knife. Bake for 14–18 minutes or until the sponges are springy to the touch and come away from the sides of the tins. Remove the cakes from the tins and cool completely on a wire rack covered with a tea towel. Whisk the cream until soft peaks form. Spread one cake with ¾ cup of the jam, top with the cream and sandwich with the remaining cake. Dust with icing sugar to serve. Serves 6.

There are no comments for this entry yet.