coconut layer meringue cake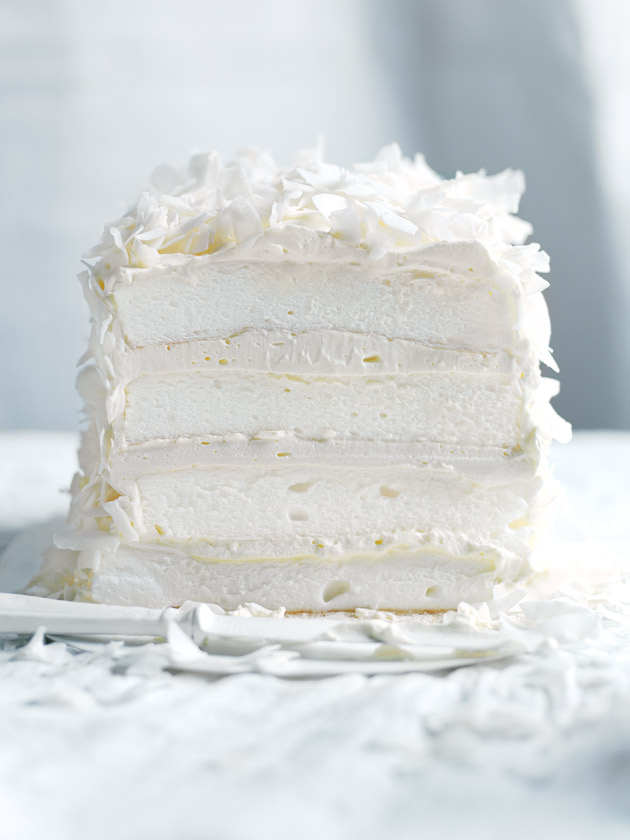 600ml eggwhite (about 16 eggs), at room temperature+

3 cups (660g) caster (superfine) sugar

2 tablespoons cornflour (cornstarch), plus extra for dusting

2 tablespoons white vinegar

2 cups (100g) coconut flakes

vanilla coconut cream
1 cup (250ml) double (thick) cream

1 cup (250ml) coconut cream, chilled

1 teaspoon vanilla extract

Preheat oven to 160°C (325°F). Grease a 24cm x 34cm slice tin. Place half the eggwhite in the bowl of an electric mixer and whisk on high speed until soft peaks form. Add half the sugar, 1 tablespoon at a time, whisking for 30 seconds before adding more. Scrape down the sides of the bowl and whisk for 8 minutes or until thick. Place half the cornflour and half the vinegar in a small bowl and mix to combine. Add to the meringue mixture and whisk for 2 minutes or until thick and glossy. Spoon into the tin and smooth the top. Bake for 16 minutes or until the top is just dry to the touch. Allow to cool in the tin for 5 minutes before turning out onto a tray lightly dusted with cornflour to cool completely. Trim the meringue to make 2 equal rectangles, discarding the uneven edges++ and set aside.

Repeat with the remaining eggwhite, sugar, cornflour and vinegar to create 2 more meringue rectangles.

To make the vanilla coconut cream, place the cream, coconut cream and vanilla in a clean bowl of the electric mixer and whisk until stiff peaks form.

To assemble, place 1 meringue rectangle on a cake stand or plate. Spoon ⅓ cup (80ml) of the vanilla coconut cream over the meringue. Continue layering with meringue and vanilla coconut cream, finishing with the cream. Lightly spread the remaining cream over the sides and sprinkle all over with the coconut flakes, pressing gently to secure. Serve immediately+++. Serves 6

+ Making meringue is a science – be sure to measure the eggwhites carefully, remembering egg sizes do vary.
++ The meringue will shrink by about 3–5cm as it cools. We've trimmed the edges to create a straight, clean edge. You can leave the edges intact if you prefer a larger cake.
+++ This cake will keep refrigerated for 2 hours before serving.
There are no comments for this entry yet.