flourless carrot cake
with cream cheese icing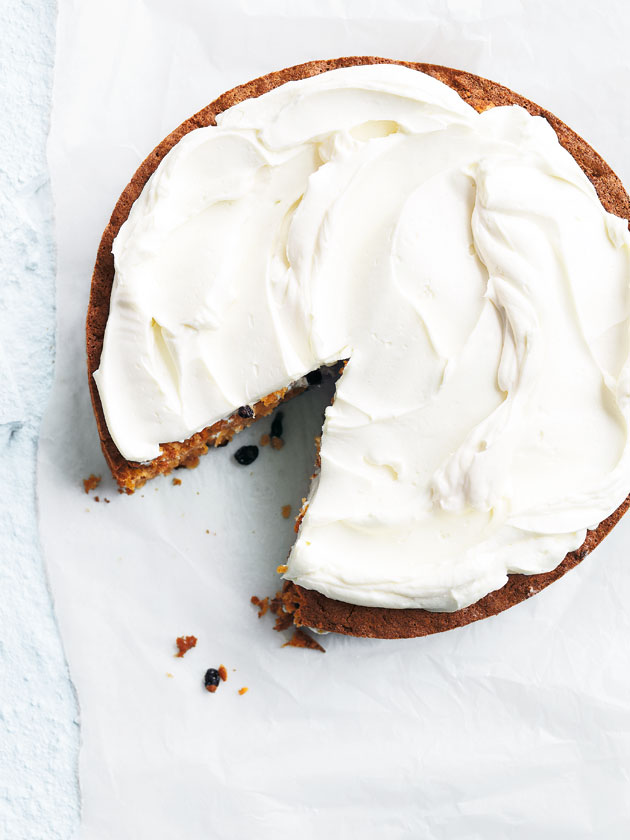 5 eggs, at room temperature

1½ cups (265g) light brown sugar

1 teaspoon vanilla extract

½ cup (125ml) vegetable oil

3½ cups (420g) almond meal (ground almonds)

1 teaspoon ground cinnamon

1 teaspoon ground ginger

¼ teaspoon ground nutmeg

1 teaspoon baking powder

2⅔ cups (320g) grated carrot (about 3 carrots)

1 cup (75g) shredded coconut

½ cup (70g) slivered almonds, toasted

½ cup (80g) dried currants

cream cheese icing
250g cream cheese, chopped

⅓ cup (55g) icing (confectioner's) sugar mixture, sifted

1 tablespoon lemon juice

Preheat oven to 160°C (325°F). Line a 24cm round springform tin with non-stick baking paper and set aside.

Place the eggs, sugar and vanilla in the bowl of an electric mixer and whisk for 15 minutes or until thick and tripled in volume. Place the oil, almond meal, cinnamon, ginger, nutmeg, baking powder, carrot, coconut, almonds and currants in a large bowl and mix to combine. Add the egg mixture and fold to combine. Bake for 1 hour 20 minutes – 1 hour 25 minutes or until just a few crumbs are attached when tested with a skewer. Allow to cool completely in the tin. Refrigerate for 2–3 hours or until firm.

To make the cream cheese icing, place the cream cheese and icing sugar in the bowl of an electric mixer and beat for 5 minutes. Scrape down the sides of the bowl, add the lemon juice and beat for a further 1 minute or until smooth.

Run a small knife around the edge of the cake and remove the tin. Place on a cake stand or plate and spread with the icing to serve. Serves 8–10

donna hay team
Hi Janette, Yes this cake can be frozen without the cream cheese icing. Simply make and add the icing when ready to serve. Happy baking!
donna hay team
Hi Janette, all of our recipes are created and tested in a fan-forced oven. Hope that helps!
Janette Peters
Hi, is the 160 deg C for fan forced oven? Thanks Jan.
Janette Peters
Can this cake be frozen, I was wanting to make it ahead for Christmas. Thanks.
donna hay team
Hi Lisa, we have not tested this recipe in mini versions, so it's a little tricky to tell how many it would make and how long to cook them for. We suggest you try making them in a muffin tin lined with paper cases. – The DH Team.
Lisa Holmes
To make this as mini cupcake size how would I need to vary time and temperature?
Sarah Lore
This is DELICIOUS and we have been looking for a good gluten-free carrot cake recipe for a long time. We substituted raisins for currants because that is what we had on hand, and it was perfect!