lemon thyme cakes
with honey syrup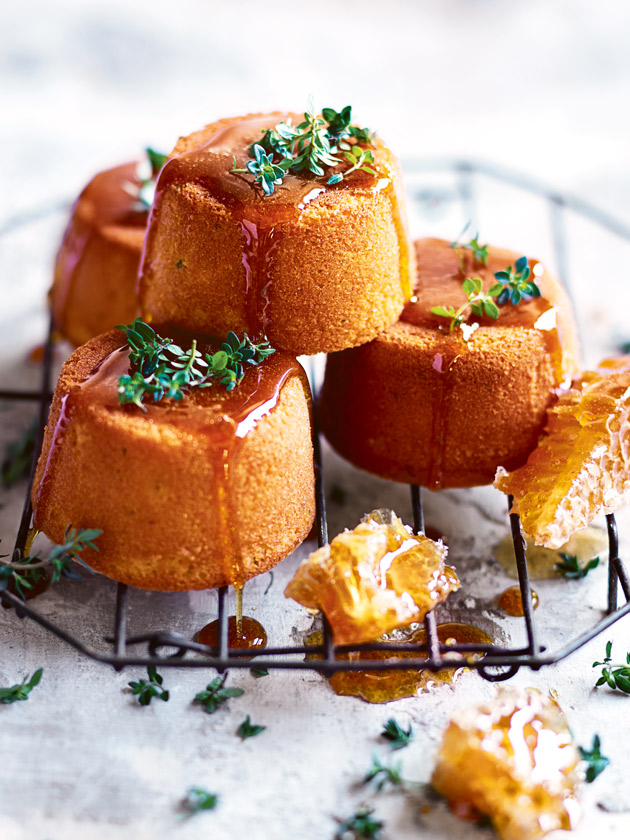 1¼ cups (185g) self-raising (self-rising) flour, sifted

¾ cup (165g) caster (superfine) sugar

½ cup (60g) almond meal (ground almonds)

2 eggs

¾ cup (180ml) milk

125g unsalted butter, melted

1 teaspoon vanilla extract

1 teaspoon finely grated lemon rind

1 tablespoon lemon thyme leaves, chopped

½ cup (175g) honey

1 tablespoon lemon thyme leaves, extra, to serve

store-bought fresh honeycomb+, to serve

Preheat oven to 160°C (325°F). Place the flour, sugar, almond meal, eggs, milk, butter, vanilla, lemon rind and lemon thyme in a large bowl and whisk until smooth.
Divide the mixture between 6 x 1-cup-capacity (250ml) metal ramekins and place on a large baking tray. Cook for 22–25 minutes or until cooked when tested with a skewer. Gently loosen the edges with a knife and turn out onto wire racks to cool.
While the cakes are cooling, heat the honey in a small saucepan over medium heat. Bring to the boil and cook for 2–3 minutes or until slightly thickened. Spoon the syrup over the cakes, sprinkle with the lemon thyme leaves and serve with fresh honeycomb. Makes 6.
+ You can buy honeycomb in jars or packets – it's available in supermarkets and specialty food stores.
donna hay team
Hi Krystal, we have not tested with Nutlex so the flavour might vary. You could also try using a light flavoured olive oil. Good luck! The dh team
Krystal Whitehouse
I just wanted to know if I can have dairy would something like nutelex be okay to use instead of the butter and plant based milk for the milk?
Would love to make these they look delicious x