maple and ginger cheesecake tarts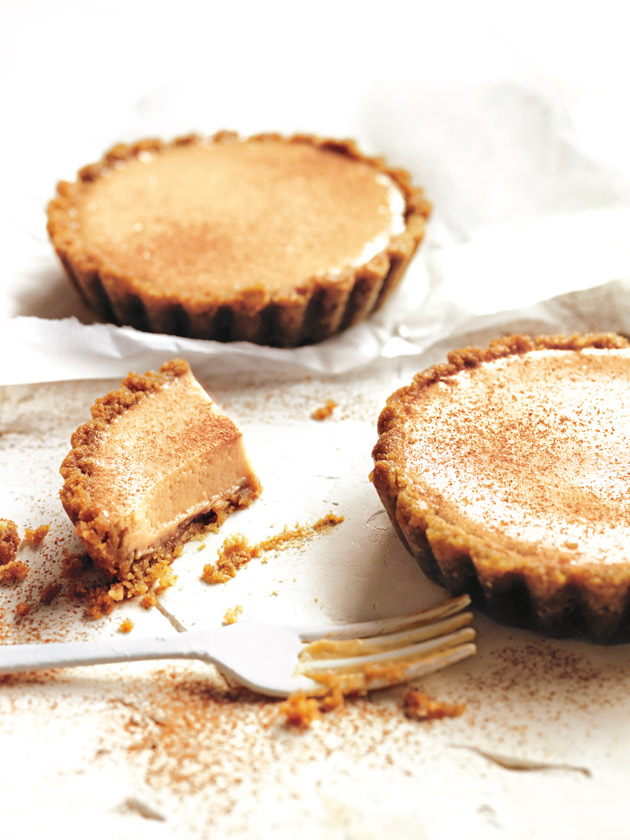 250g store-bought gingernut biscuits
¼ cup (30g) almond meal
100g unsalted butter, melted
175g fresh ricotta
250g cream cheese, softened
½ cup (90g) brown sugar
2 eggs
1 teaspoon vanilla extract
¼ cup (90g) maple syrup
1 teaspoon cinnamon, for dusting
Preheat oven to 150ºC. Place the biscuits and almond meal in a food processor and process until coarsely chopped. Add the butter and process to combine.
Press the mixture into the base and sides of 8 x lightly greased

8cm tart tins. Refrigerate for 30 minutes.
Place the cheeses in an electric mixer and beat for 5–6 minutes or until smooth. Add the sugar and beat for 3–4 minutes or until sugar is dissolved.
Gradually add the eggs, beating well after each addition. Add the vanilla and syrup and beat until well combined. Divide the mixture between the tart bases.
Place on a baking tray and cook for 15–20 minutes or until firm to the touch. Refrigerate for 2 hours or until chilled. Dust with cinnamon to serve. Makes 8.
Meredith Denvir
Delicious. Although I made one large non-baked cheesecake (left out the eggs and added gelatin).
Would love to make a GF version of the base - can anyone tell me if ground ginger would work with GF biscuits and if so how much to use??
RELATED VIDEO