mexican three-milk cake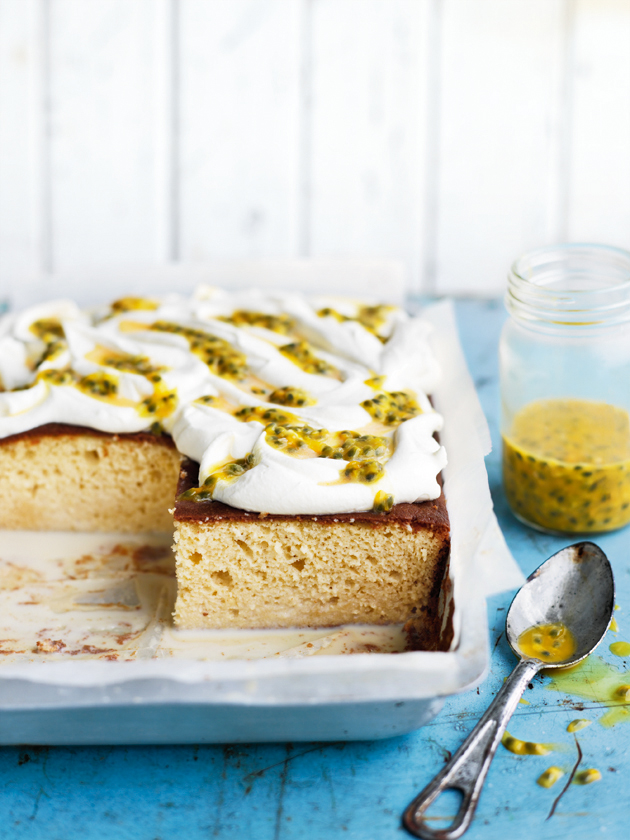 180g butter, softened

1 cup (220g) caster (superfine) sugar

2 tablespoons vanilla extract

5 eggs

1½ cups (225g) self-raising (self-rising) flour, sifted

2 cups (500ml) milk

1 cup (250ml) sweetened condensed milk

1 cup (250ml) buttermilk

2 cups (500ml) single (pouring) cream

fresh passionfruit pulp, to serve

Preheat oven to 180ºC (350ºF). Place the butter and sugar in an electric mixer and beat for 8–10 minutes or until pale and creamy. Add 1 tablespoon vanilla extract and beat to combine. Gradually add the eggs, one at a time, beating well after each addition. Gradually add the flour and beat until just combined.
Spoon the mixture into a lightly greased 20cm x 30cm slice tin lined with non-stick baking paper and bake for 30–35 minutes or until cooked when tested with a skewer.
Using a skewer, make holes all over the top of the cake and place in the refrigerator to cool completely.
While the cake is cooling, place the milk, condensed milk, buttermilk and remaining vanilla in a jug and mix well to combine. Gradually pour the milk mixture over the cake and return to the refrigerator for a further 2-3 hours or until the milk mixture is absorbed.
Place the cream in a bowl and whisk until soft peaks form. Top the cake with the cream and drizzle with passionfruit pulp to serve. Serves 6–8.
Jessica Joseph
I found that the recipe didn't make enough batter for the suggested tin size. I ended up using one that was about half the size & it turned out well. Loved the taste.