mini white chocolate cakes
with cacao nib crumb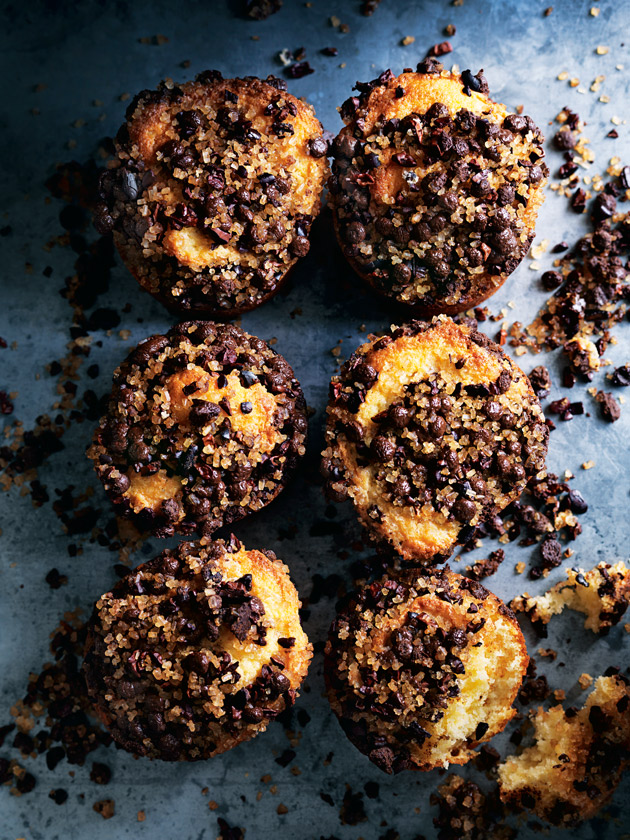 1 cup (150g) self-raising flour, sifted
½ cup (110g) caster sugar
50g unsalted butter, melted
120g melted white chocolate

⅓

cup (80ml) buttermilk
2 eggs

CACAO NIB CRUMB
⅓

cup (75g) coffee sugar+

⅓

cup (80g) mini chocolate chips
¼ cup (40g) cacao nibs++
Preheat oven to 160°C. To make the cacao nib crumb, place the sugar, chocolate chips and cacao nibs in a small bowl and mix to combine. Set aside.
Place the flour, caster sugar, butter, chocolate, buttermilk and eggs in a medium bowl and whisk until smooth. Divide the mixture into 6 x ¾-cup-capacity (180ml) well-greased loose-bottomed cake tins. Place on an oven tray and cook for 5 minutes.
Remove from the oven and quickly sprinkle with the cacao nib mixture and cook for a further 30 minutes or until cooked when tested with a skewer.
Set aside to cool in the tins for 10–15 minutes, or until cool enough to handle, and remove from tins to serve. Serve. Makes 6.
+ Coffee sugar has a large sugar granule and makes the perfect crunchy sweet topping on desserts. Find it in the baking aisle of supermarkets.
++ Find cacao nibs at specialty grocers and health food stores.
donna hay team
Hi Pauline, well spotted! There was a mistake which has now been corrected one cup, 150g of flour is correct. Apologies. The dh team
Pauline Lewis
The cupcakes were dry. I weighed my ingredients as listed in the recipe. The recipe states 1 cup of flour weighs 220g yet in other recipes 1 cup of flour only weighs 150g. Liked the crunchy topping.
RELATED VIDEO