whole orange cake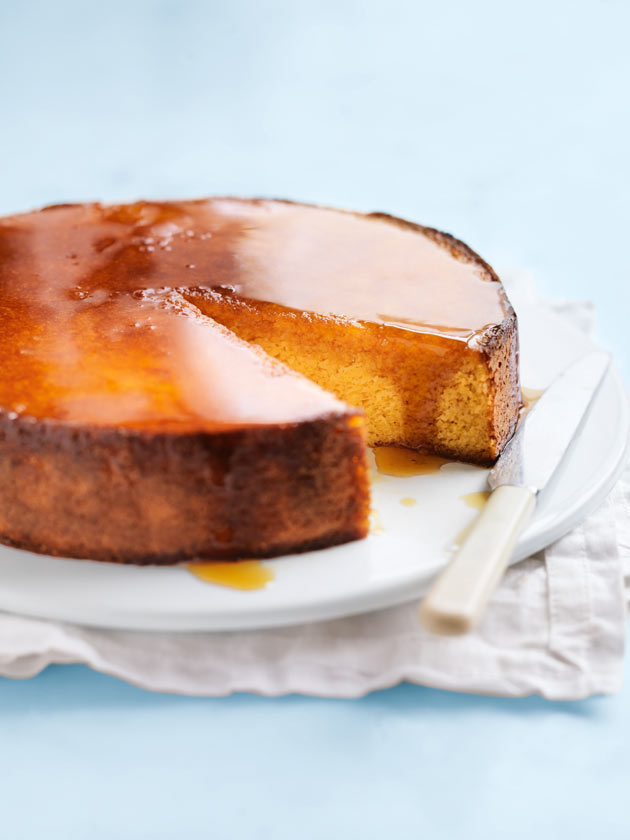 2 small oranges (about 350g), unpeeled

½ cup (85g) instant polenta

¾ cup (90g) almond meal (ground almonds)

¼ cup (35g) plain (all-purpose) flour

½ teaspoon baking powder

3 eggs, at room temperature

½ cup (110g) caster (superfine) sugar
orange syrup
⅔ cup (150g) caster (superfine) sugar

2 tablespoons water

⅓ cup (80ml) orange juice

Preheat oven to 180°C (350°F). Line the base and sides of a lightly greased 20cm springform tin with non-stick baking paper. Place the oranges in a small saucepan over high heat, cover with water and cover with a small lid or plate to submerge the oranges.
Bring to the boil and cook for 1 hour or until soft. Remove from the saucepan and set aside to cool slightly. Chop the oranges, removing the seeds, place in a small food processor and process until pureed. Set aside.

Place the polenta, almond meal, flour and baking powder in a large bowl and mix to combine. Place the eggs and sugar in the bowl of an electric mixer and whisk for 6–8 minutes or until thick and tripled in volume. Fold the orange puree and almond meal mixture through the egg mixture. Pour into the tin and smooth the top with a palette knife. Cook for 35–40 minutes or until cooked when tested with a skewer. Set aside to cool completely in the tin.

While the cake is cooling, make the orange syrup. Place the sugar and water in a saucepan over medium heat and stir until just combined. Bring to the boil and cook, without stirring, for 7–8 minutes or until golden. Carefully add the orange juice and stir to combine. Set aside to cool slightly.

Spoon the orange syrup over the cake to serve. Serves 8–10.

TIPS + TRICKS
+ The oranges can be boiled and kept refrigerated in an airtight container up to two days in advance. Bring to room temperature when ready to use.
+ If oranges are unavailable, you can use mandarins instead.
Bronwyn Toft
this was an easy yummy cake to make a real sweet treat. big hit boys at aftetnoon tea were like children fighting over it! I like poppy seeds in orange cake and added 125gm.. Only problem it didnt last long! 5/5!!
Tags:
baking
,
birthdays
,
cakes
,
celebration cake
,
desserts
,
orange
,
orange syrup
,
parties
,
polenta
,
sweet
,