classic lemon meringue pie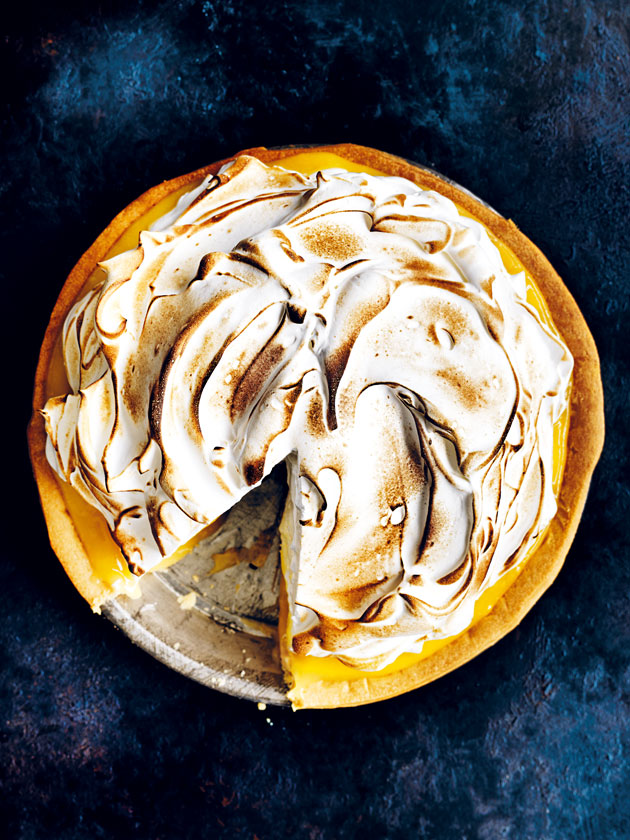 sweet shortcrust pastry
2 cups (300g) plain (all-purpose) flour
175g cold unsalted butter, chopped
¼ cup (40g) sifted icing (confectioner's) sugar
1 egg yolk
2 tablespoons iced water
lemon curd
2 eggs
2 egg yolks, extra
1 cup (220g) caster (superfine) sugar
1 tablespoon finely grated lemon rind
½ cup (125ml) lemon juice
150g cold unsalted butter, chopped into 2cm cubes
meringue mixture
225ml eggwhite (about 6 eggs)+
1½ cups (330g) caster (superfine) sugar
1 tablespoon cornflour (cornstarch)
1½ teaspoons white vinegar
To make the pastry, place the flour, butter and sugar in a food processor and pulse until the mixture resembles fine breadcrumbs. With the motor running, add the egg yolk and water and process until a dough just comes together. Turn out onto a lightly floured surface, gently bring together to form a ball and flatten into a disc shape. Roll out between sheets of non-stick baking paper to 3mm thick and refrigerate for 1 hour.

Allow the pastry to stand at room temperature for 5 minutes or until workable. Use the pastry to line a lightly greased 22cm pie or tart tin. Trim the edges and prick the base with a fork. Refrigerate for 30 minutes.
Preheat oven to 180°C (350°F). Line the pastry case with non-stick baking paper and fill with baking weights or rice. Bake for 15 minutes, remove the paper and weights and bake for a further 15 minutes or until the pastry is golden and cooked through. Allow to cool in the tin.
To make the lemon curd, place the eggs, extra yolks, sugar, lemon rind and lemon juice in a medium bowl and whisk to combine. Transfer the mixture to a large saucepan over medium heat and cook, stirring, for 2 minutes or until the sugar has dissolved.
Reduce the heat to low and add the butter, 3 pieces at a time, stirring continuously until melted. Cook, stirring constantly, for a further 4–6 minutes or until the curd has thickened and coats the back of a spoon.
Immediately strain into a heatproof bowl, discarding any solids. Allow to cool slightly and cover with plastic wrap. Refrigerate for 1 hour or until chilled.
To make the meringue mixture, place the eggwhite in the bowl of an electric mixer and whisk on high speed until soft peaks form.
Add the sugar, 1 tablespoon at a time, whisking until each addition is dissolved before adding more++. Once all the sugar has been added, scrape down the sides of the bowl and whisk for a further 10–15 minutes or until the mixture is thick and glossy+++.
Place the cornflour and vinegar in a small bowl and mix until smooth. Add the cornflour mixture to the eggwhite mixture and whisk for 30 seconds or until well combined.
To assemble, preheat oven grill (broiler) to high. Place the pastry case in tin on an oven tray. Pour the lemon curd into the pastry case and smooth the top, using a palette knife. Spoon the meringue mixture over the lemon curd and grill for 2–3 minutes or until the peaks of the meringue are golden brown.
Alternatively use a small hand-held kitchen blowtorch to brown the meringue. Allow to cool, place the pie on a cake stand or plate and slice to serve. Serves 8
+ Making meringue is a science. Be sure to measure your ingredients carefully, including the eggwhites as egg sizes do vary. Fresh, room temperature eggs work best – when whisked they'll become fluffy and voluminous, plus they're more stable during baking.
++ Be patient when gradually adding the sugar to the eggwhite. Each tablespoon of sugar should be dissolved before the next is added.
+++ Take care not to overwhisk the meringue mixture – it's ready when it's thick, glossy, smooth and there are no more sugar granules. You can check this by rubbing a little mixture between your thumb and forefinger.
TIPS
+ By constantly stirring the lemon curd mixture, you'll end up with luscious, velvety smooth curd.
+ Store lemon curd in an airtight container or jar in the refrigerator for up to 1 week.
+ It's best to avoid making meringue on humid days. Excess humidity can cause meringue to sink during or after baking.
Photography: William Meppem
There are no comments for this entry yet.