coconut and blistered stone fruit tart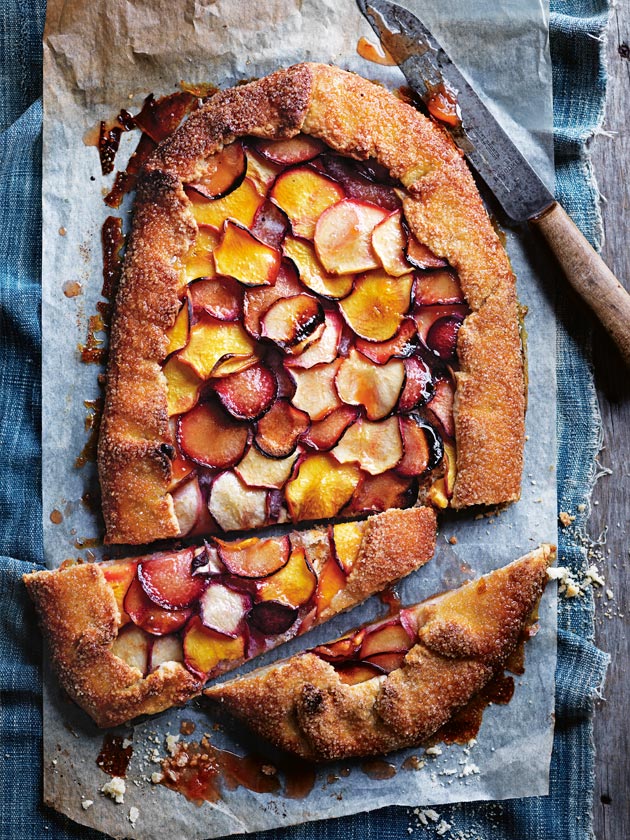 ¼ cup (20g) desiccated coconut

1kg mixed stone fruit+, thinly sliced

⅓ cup (75g) caster (superfine) sugar

1 egg, lightly beaten

2 tablespoons raw sugar

2 tablespoons honey

pastry
3 cups (450g) plain (all-purpose) flour

½ cup (110g) caster (superfine) sugar

125g cold unsalted butter, chopped

75g cold lard, chopped (see note)

1 tablespoon apple cider vinegar

½ cup (125ml) iced water

1 teaspoon vanilla extract

To make the pastry, place the flour and sugar in a large bowl and mix to combine. Add the butter and lard and, using your fingertips, rub into the flour mixture until it resembles fine breadcrumbs.
Add the vinegar, water and vanilla and, using a butter knife, bring the mixture together to form a rough dough.
Lightly knead to bring the dough together. Shape into a rectangle and wrap in plastic wrap. Refrigerate for 30 minutes or until firm.

Preheat oven to 200°C (400°F). Roll the pastry between 2 sheets of non-stick baking paper to a 5mm-thick 40cm x 30cm rectangle. Place on a large lightly greased baking tray lined with non-stick baking paper.

Spread the base with the coconut, leaving a 4cm border. Top the coconut with the fruit, fold over the edges, pressing lightly to seal, and sprinkle the fruit with the caster sugar.
Brush the edge with the egg and sprinkle with the raw sugar. Refrigerate for 10 minutes or until firm.

Cook for 30 minutes. Drizzle with the honey and cook for a further 10 minutes or until the pastry is golden and the fruit is bubbling. Set aside for 10 minutes before serving. Serves 8–10.
+ We used plums, white and yellow peaches, and white and yellow nectarines.
NOTE: Lard is a common addition to pastry dough, as it has a higher melting point than butter so will help the pastry keep its shape when cooking. We've used a combination of butter and lard in our pastries to give a rich, sweet flavour and a nice crisp crust. Find lard in the chilled section of the supermarket.
donna hay team
Hi Marin! Yes - you can use the same weight in butter instead of lard, however your pastry will just be a little less crisp and flaky. Good luck!
Marin Koirman
Can i replace the lard with some other ingredient?
Thanks
Djana O'Brien
The whole family loved this tart and it tasted great cold the next day for school lunches. So many ways that you can change this up depending on the seasonal fruit. Love it!