passionfruit souffle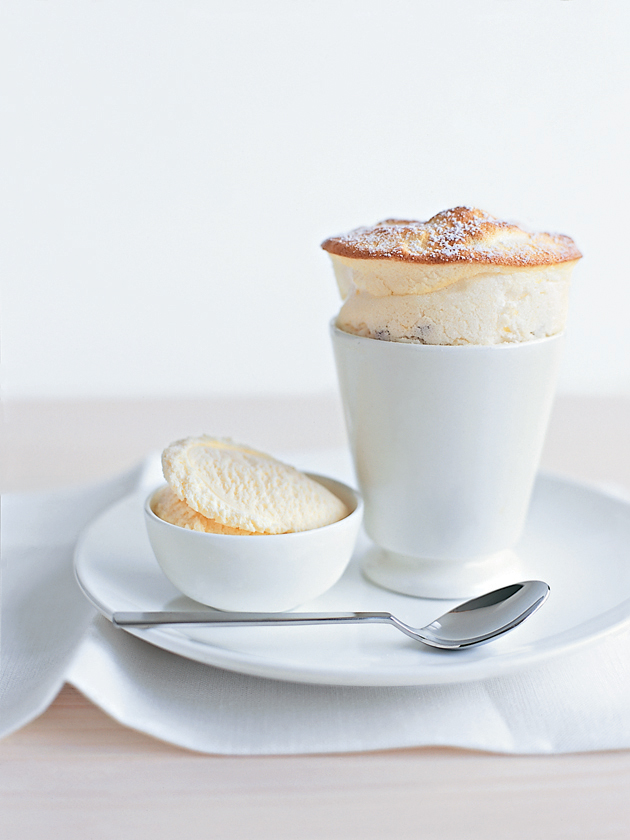 melted butter, for greasing
caster (superfine) sugar, for dusting
⅓ cup passionfruit pulp
1 ½ tablespoon caster (superfine) sugar
1 tablespoon lemon juice
2 teaspoons cornflour (cornstarch)
1 ½ teaspoon water
3 eggwhites
2 tablespoons caster (superfine) sugar, extra
icing (confectioner's) sugar, for dusting
vanilla ice-cream, to serve
Preheat the oven to 180°C (355°F). Brush four x ¾-cup (8 fl oz) capacity ramekins with butter, dust with sugar and place on a baking tray.
Place the passionfruit, sugar and lemon juice in a small saucepan over low heat and stir until the sugar is dissolved. Increase the heat and bring to the boil. Combine the cornflour and water in a small bowl and mix to form a smooth paste. Remove the pan from the heat and whisk in the cornflour paste. Return to the heat and cook, whisking continuously, for 30 seconds or until thickened.
Pour the passionfruit mixture into a large bowl and refrigerate until cold.
Place the eggwhites in the bowl of an electric mixer and beat until soft peaks form. Gradually add the extra sugar and beat until glossy. Gently fold the eggwhite mixture through the passionfruit mixture. Spoon into the ramekins and bake for 10 minutes or until risen and golden. Dust with the icing sugar and serve immediately with the vanilla ice-cream. Serves 4.

Lyn Pelham
easy and always a very pleasing result..