pineapple upside-down cake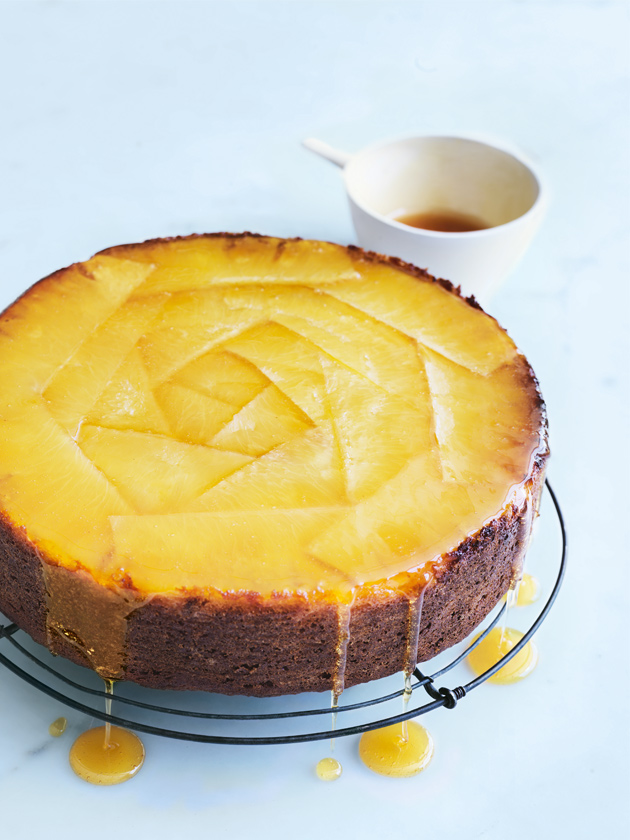 450g pineapple, cored and thinly sliced lengthways

1½ cups (375ml) water

1¾ cups (385g) caster (superfine) sugar

190g unsalted butter, chopped and softened

3 eggs

2 cups (300g) plain (all-purpose) flour, sifted

1½ teaspoons baking powder, sifted

½ teaspoon bicarbonate of soda, sifted

½ cup (60g) almond meal (ground almonds)

1 cup (250ml) buttermilk

Preheat oven to 180°C (350°F). Place the pineapple, water and ½ cup (110g) sugar in a wide saucepan over medium heat. Bring to the boil and cook for 15 minutes. Remove the pineapple and set aside.

Line the sides of a lightly greased 22cm-round cake tin with non-stick baking paper. Layer the pineapple over the base and pour over half the syrup.

Place the butter and sugar in an electric mixer and beat for 8–10 minutes until pale and creamy. Add the eggs, one at a time, beating well after each addition. Add the flour, baking powder, bicarb, almond meal and buttermilk. Beat on low speed until just combined.

Spoon the mixture over the pineapple and smooth the top. Bake for 1 hour. Cover loosely with aluminium foil. Bake for a further 15–20 minutes or until cooked. Set aside in the tin for 10 minutes. Serve with syrup. Serves 8–10.
+ Make sure to put your cake tin on a baking tray when baking to catch any drips from the pineapple.
Gabriella Mesiti
This recipe worked really well. I used a spring-form tin, as it was all I had, and I knew that the syrup would seep through the tin. But as per the recipe I put a baking tray underneath the spring-form tin and all was well. I slightly over-did the syrup in step 1, so I didn't have any extra to serve with the cake, but it didn't matter. So delicious! And so perfect for Summer.