pistachio nougat semifreddo
with marinated raspberries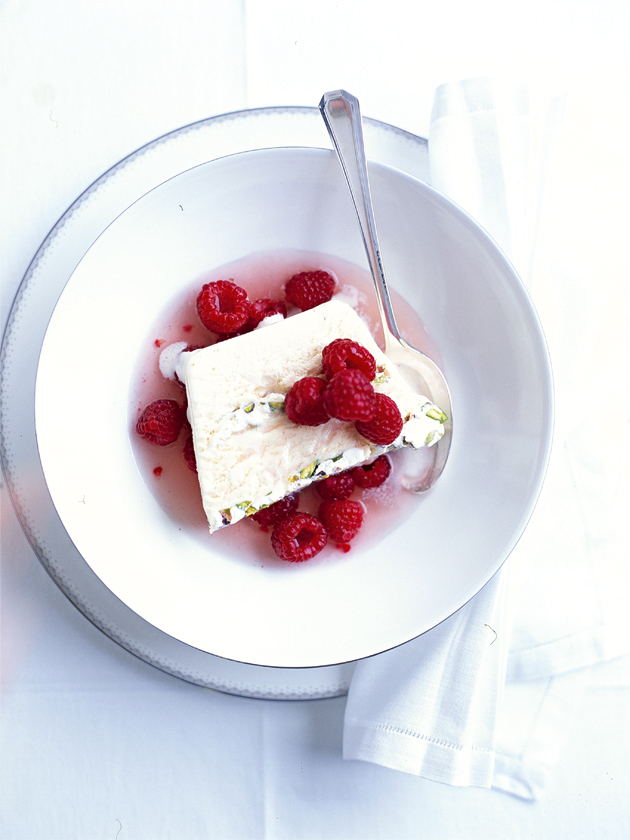 3 eggs

2 egg yolks

1 teaspoon vanilla extract

1 cup (220g) caster (superfine) sugar

2 cups (500ml) single (pouring) cream

300g pistachio nougat, thinly sliced

240g raspberries

1 cup (250ml) pink Moscato+

2 tablespoons caster (superfine) sugar

Place the eggs, extra yolks, vanilla and sugar in a heatproof bowl. Place over a saucepan of simmering water and, using a hand-held electric mixer, beat for 8–10 minutes or until thick and pale. Remove from the heat and allow to cool slightly.
Whisk the cream until stiff peaks form. Gently fold through the egg mixture until well combined. Pour half the mixture into a 2 litre-capacity loaf tin and top with half the nougat. Repeat with remaining ingredients and freeze for 6 hours or overnight.
Place the raspberries, Moscato and extra sugar in a bowl and toss to combine. Slice the semifreddo and serve with the marinated raspberries. Serves 4–6.

+ Pink Moscato is an aromatic wine with a delicious sweet berry flavour and a delicate bubble. Substitute with sparkling wine or Champagne.
There are no comments for this entry yet.