poached fruit in passionfruit syrup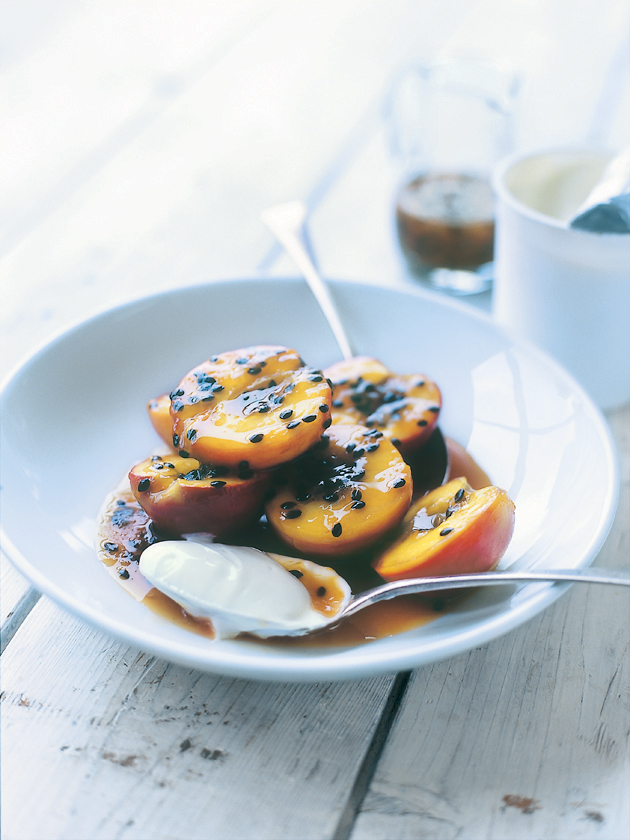 2 cups (500ml) passionfruit pulp+
1 cup (220g) caster (superfine) sugar
1 cup (250ml) dessert wine++
1 cup (250ml) water
3 peaches, halved and stones removed
3 nectarines, halved and stones removed
yoghurt, to serve

Place the passionfruit pulp, sugar, wine and water in a medium saucepan over medium heat and stir until sugar is dissolved. Bring to the boil, reduce the heat to low and simmer for 15 minutes. Add peaches and nectarines. Cut a piece of non-stick baking paper in a circle to fit the pan and cover the fruit. Cook for 5 minutes or until fruit is just tender. Cool and serve with yoghurt. Serves 4.

+ Nine passionfruit yield about one cup of pulp.
++ You can use any type of dessert wine, such as muscat or Sauternes.
There are no comments for this entry yet.