toasted grain and cauliflower tabouli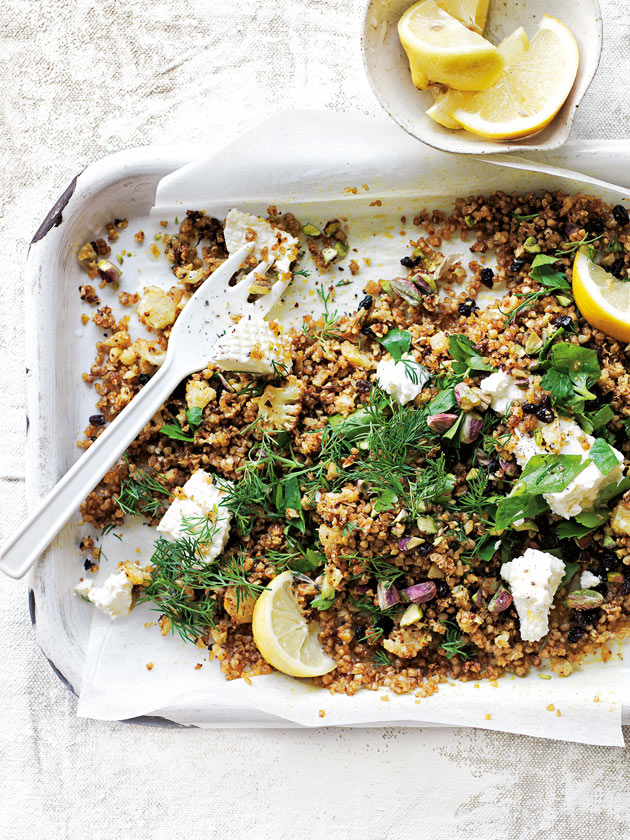 4½ cups (450g) cauliflower florets, finely chopped

1 cup (100g) cooked buckwheat

1 cup (165g) cooked coarse burghul

½ cup (125ml) extra virgin olive oil

2 teaspoons ras el hanout

sea salt and cracked black pepper

3 cups flat-leaf parsley, roughly chopped

¼ cup dill, roughly chopped

½ cup (70g) pistachios, chopped

¼ cup (40g) dried currants

2 tablespoons lemon juice

fresh ricotta and lemon wedges, to serve

Preheat oven to 180°C (350°F).
Place the cauliflower, buckwheat, burghul, oil, ras el hanout, salt and pepper in a large bowl and toss to combine.
Spread the mixture between 2 baking trays and roast for 25–30 minutes or until golden and puffed. Allow to cool.
Place in a large bowl, add the parsley, dill, pistachios, currants and lemon juice and toss to combine.
Serve with ricotta and lemon wedges. Serves 4.

karen bardney
This was delicious! Easy to make and tasty!