almond cake
with vanilla syrup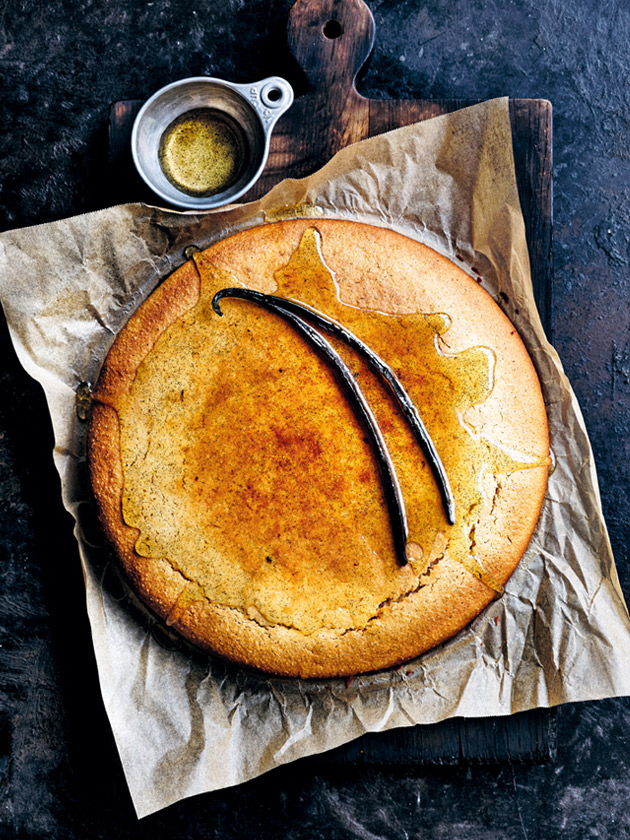 3 eggs
1 cup (220g) caster (superfine) sugar
½ cup (125g) Farmer's Union Greek Style Yogurt
½ cup (125ml) grapeseed oil or vegetable oil
2 teaspoons vanilla extract
3 cups (360g) almond meal (ground almonds)
1 cup (150g) plain (all-purpose) flour
2 teaspoons baking powder
vanilla syrup
1 cup (250ml) water
1 cup (220g) caster (superfine) sugar
1 vanilla bean, split and seeds scraped+
Preheat oven to 160°C (325°F). Line a 24cm (9½ inch) round springform cake tin with non-stick baking paper.
Place the eggs, sugar, yogurt, oil and vanilla in a bowl and whisk to combine.
Place the almond meal in a separate bowl. Sift the flour and baking powder over and stir to combine.
Add the flour mixture to the egg mixture and whisk to combine.
Pour into the prepared tin and bake for 30–35 minutes or until cooked when tested with a skewer.
While the cake is cooking, make the vanilla syrup. Place the water, sugar, vanilla bean and seeds into a medium frying pan over medium heat. Allow to simmer for 6–8 minutes or until the syrup has thickened slightly.
Pour half the hot vanilla syrup over the hot cake and serve warm or cooled with the remaining syrup. Serves 10–12
COOK'S NOTES
+ If you can't find vanilla beans, replace with 2 teaspoons of vanilla bean paste.
This cake will remain moist for up to 5 days when stored in an airtight container in the refrigerator – in fact – it almost gets better!
Photography: Chris Court
There are no comments for this entry yet.