breakfast cookies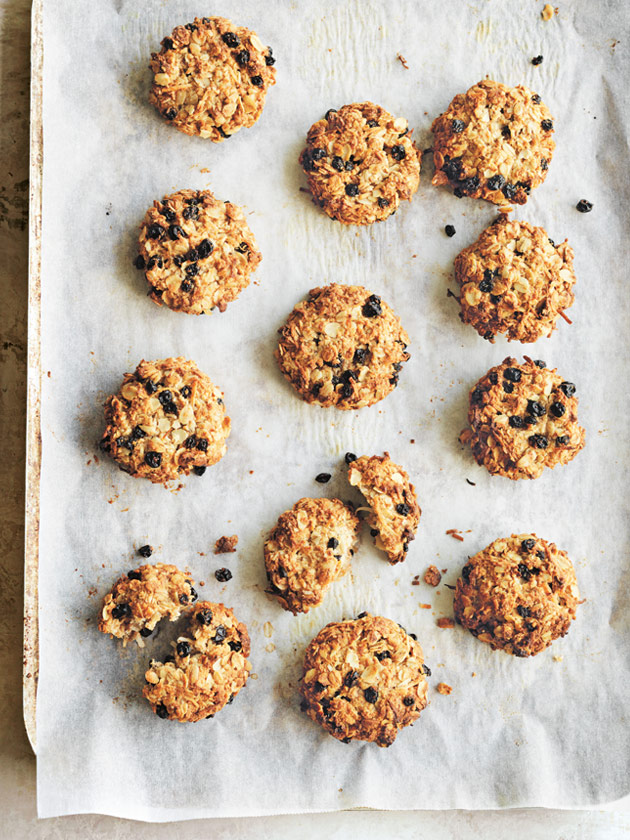 3 cups (270g) rolled oats

1 cup (120g) almond meal (ground almonds)

½ cup (40g) shredded coconut

½ cup (125ml) light-flavoured extra virgin olive oil

⅔ cup (160ml) maple syrup (pure and sweet)

2 teaspoons ground cinnamon

2 teaspoons vanilla extract

1 cup (260g) mashed banana (about 2–3 bananas)

⅔ cup (110g) dried currants or dried blueberries (whichever you like best)

Preheat oven to 180°C (350°F). Line 2 baking trays with non-stick baking paper.

Place all the ingredients in a big bowl and mix them really well to combine, using a spatula.

With clean hands (the fun part!), roll and press heaped tablespoons of the mixture into balls. Arrange them on the prepared trays and squish them slightly.

Bake for 25 minutes or until dark golden brown. Wearing oven gloves, carefully remove the cookies from the oven and allow them to cool on the trays, before sneaking a bite. Makes 30

+ Bake these cookies until they're dark brown – they'll be crunchy on the outside and chewy on the inside.
donna hay team
Hi Rachel, We wouldn't recommend freezing this recipe as the banana will change the consistency once defrosted. Hope this helps! The DH Team
Rachael Galvin
Just wondering if they will be ok to freeze?
donna hay team
Hi Cindy, this recipe hasn't been tested with plain or wholemeal flour, however if you do try using these alternative ingredients, please let us know the outcome.
Cindy Chambers
I have an allergy to almonds - can I substitute this with anything else or just use plain/whole meal flour??