choc-banana brownies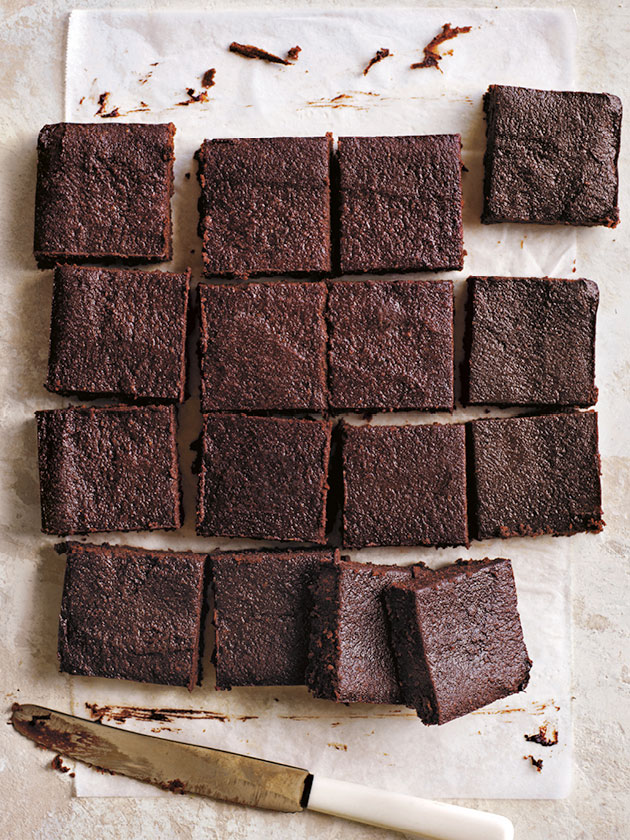 10 soft fresh dates (200g), pitted

2 bananas (400g), peeled and chopped

⅔ cup (70g) raw cacao or cocoa powder

1½ cups (180g) almond meal (ground almonds)

¼ cup (60ml) light-flavoured extra virgin olive oil

2 teaspoons vanilla extract

¼ cup (60ml) maple syrup

Preheat oven to 160°C (325°F). Line a 20cm square cake tin with non-stick baking paper.

Place the dates, banana, cacao, almond meal, oil, vanilla and maple in a food processor and process until smooth.

Pour the mixture into the prepared tin, scraping the sides of the processor with a spatula if you need to. Smooth the top and bake for 20 minutes or until just firm around the edges.

Wearing oven gloves, carefully remove the brownie from the oven and allow it to cool in the tin for 20 minutes. Place it in the fridge until chilled.

Turn the brownie out onto a large board and, using a sharp knife, cut it into squares to serve. Keep the brownies in an airtight container in the refrigerator. Makes 16

Photography: Chris Court
donna hay team
Hi Mandy, We have not tested this recipe with coconut oil, however the recipe should work out similar. Let us know how you go. DH Team
Mandy Chambers
Hi! Could you substitute olive oil for coconut oil in this recipe? Thanks
donna hay team
Thanks for your question, Siobhan. We haven't tested this recipe with ground seeds, however the recipe should work out similarly with ground sunflower seeds. Let us know how you go! The DH Team.

Michelle Grant
I made this and the result was perfect! I made sure what I used was Vegan friendly for our friends and served it with Vanilla Coconut Yoghurt for them and dollop cream for the non Vegans. Will make again for sure.
Siobhan Broxton
Hi, I'd like to make these (and the carrot cake from the kids Basic to Brilliance book) for the kids school lunchboxes. Can I sub the almond meal for plain flour or even ground sunflower seeds or pepitas to make them nut free?
donna hay team
Hi Leena, Yes, you can use honey instead of maple syrup. You may end up with a slightly different consistency, or a slightly firmer mix, as maple syrup tends to be runnier. The DH team x
Leena Sardesai
Can I use honey instead of maple syrup?
donna hay team
Hi Jude, of course! Fresh dates are best in these recipes as they have a soft smooth texture when baking. The DH team x
Jude Gall
Lots of your kids recipes from the show use fresh dates. Can dried be used instead as a cheaper alternative
Tags:
almond meal
,
baking
,
baking with kids
,
banana
,
basics to brilliance kids
,
brownies
,
cacao
,
chocolate
,
dates
,
dessert
,
maple syrup
,
snack
,