cinnamon scrolls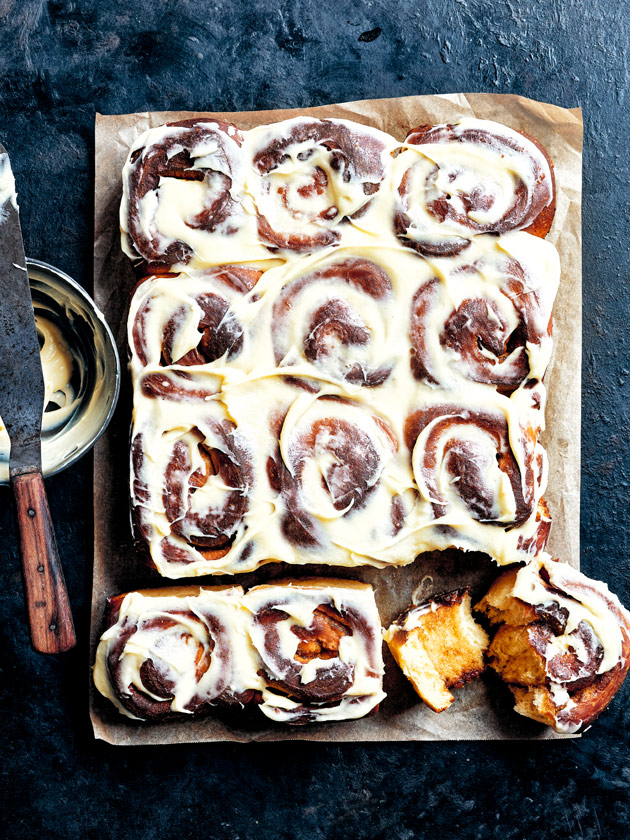 1 tablespoon instant dried yeast
1⅓ cups (330ml) lukewarm milk
⅔ cup (150g) caster (superfine) sugar
4½ cups (675g) plain (all-purpose) flour, plus extra for dusting
¼ teaspoon table salt
1 egg
2 egg yolks, extra
150g unsalted butter, chopped and softened
cinnamon filling
125g unsalted butter, softened
¾ cup (180g) firmly packed brown sugar
1½ teaspoons ground cinnamon
2 teaspoons vanilla extract
cream cheese frosting
125g cream cheese, chopped and softened
60g unsalted butter, chopped and softened
1 cup (160g) icing (confectioner's) sugar, sifted
1–2 tablespoons milk
Place the yeast, milk and sugar into the bowl of an electric mixer and stir to dissolve.
Add the flour, salt, egg and extra yolks. Using the dough hook attachment, beat on low speed for 5 minutes or until smooth and elastic. Add the butter, a little at a time, and beat until combined (the dough will be very sticky). Place on a lightly floured surface and gently fold until a smooth dough forms. Place in a clean greased bowl and cover with a damp tea towel. Allow to stand in a warm place for 1 hour or until doubled in size.
To make the cinnamon filling, place the butter, sugar, cinnamon and vanilla in a bowl and mix until smooth.

Grease a 20cm x 30cm (8 inch x 12 inch) slice tin. Roll the dough out on a lightly floured surface to a 25cm x 60cm (10 inch x 24 inch) rectangle. Spread with the cinnamon filling, leaving a 1cm (½ inch) border. Starting from one long edge, roll up the dough tightly to enclose filling. Trim the ends and slice into 12 pieces. Arrange scrolls in the prepared tin, cut-side up, and cover with a damp tea towel. Allow to stand in a warm place for 1 hour or until doubled in size.
Preheat oven to 180°C (350°F). Bake the scrolls for 20–25 minutes or until golden and cooked through. Allow to cool in the tin for 5 minutes.

To make the cream cheese frosting, place the cream cheese and butter in the bowl of an electric mixer and beat on medium speed until smooth. Add the icing sugar and beat until combined. Add the milk, one tablespoon at a time, until the frosting is a spreadable consistency. Spread the frosting over the warm scrolls, to serve. Makes 12
COOK'S NOTE
To make the scrolls ahead of time, make the base recipe until the end of step 4. Cover with plastic wrap and place in the refrigerator overnight.
In the morning, remove scrolls from the refrigerator and allow to stand for 1 hour. Preheat oven to 180°C (350°F). Keep the baking dish close to the oven while it preheats to help the scrolls come to room temperature. Bake for 20–25 minutes or until golden. Follow the remaining steps.
Photography: Chris Court
There are no comments for this entry yet.