lemon drizzle cake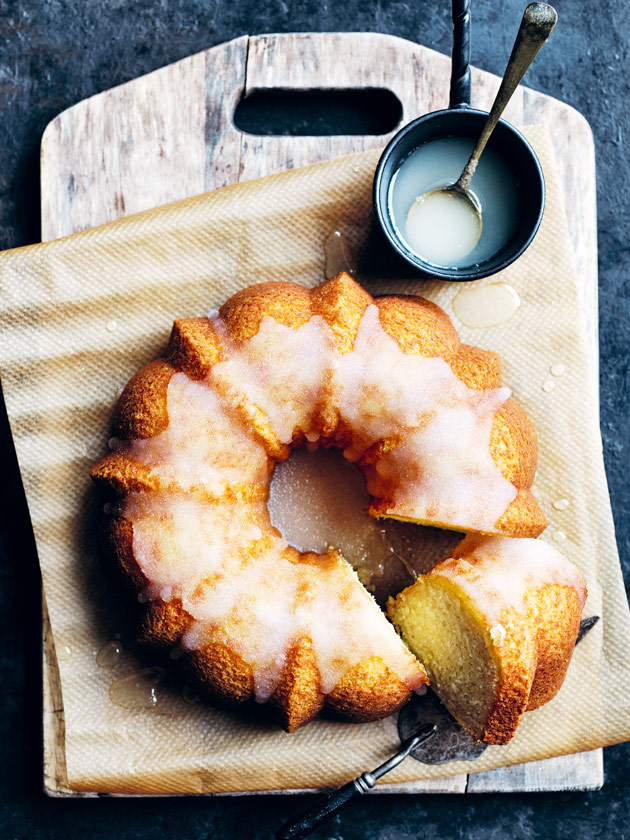 ¾ cup (180ml) grapeseed oil or vegetable oil
3 eggs
1 tablespoon finely grated lemon rind
¼ cup (60ml) lemon juice
1 cup (250g) Farmer's Union Greek Style Yogurt
2½ cups (375g) plain (all-purpose) flour
3 teaspoons baking powder
1½ cups (330g) caster (superfine) sugar
lemon drizzle icing
¾ cup (180g) white (granulated) sugar
¼ cup (60ml) lemon juice
Preheat oven to 160°C (325°F). Grease a 2.5-litre-capacity bundt tin+.
Place the oil, eggs, lemon rind, lemon juice and yogurt in a bowl and whisk to combine.
Sift the flour and baking powder into a separate large bowl. Add the caster sugar and mix to combine. Make a well in the centre and add the egg mixture to the centre. Whisk to combine.
Pour into the prepared tin and bake for 45–50 minutes or until cooked when tested with a skewer. Allow to stand for 10 minutes, then invert onto a wire rack and allow to stand for a further 10 minutes++. Gently remove from the tin.
While the cake is standing, make the lemon drizzle icing. Gently stir the granulated sugar and lemon juice together. While the cake is still hot, place it on a cake stand or serving plate and spoon over the lemon drizzle icing. Allow to set for 10 minutes, before serving. Serves 10–12
COOK'S NOTES
+ To grease a bundt tin, brush it with softened butter and refrigerate until the butter is set.
++ Letting the bundt cake stand, inverted, on a wire rack, helps to release it from the tin more easily.
Photography: Chris Court
There are no comments for this entry yet.