wasabi and sesame chicken schnitzel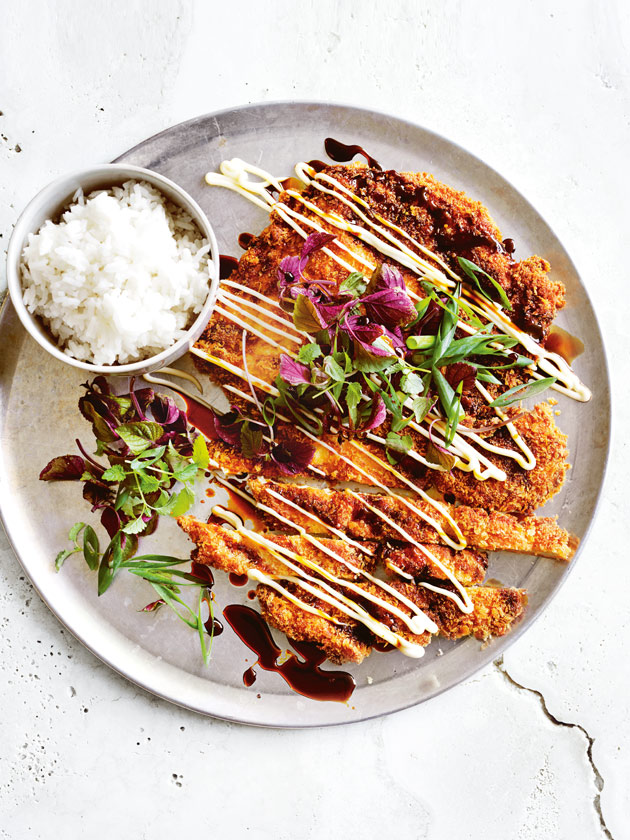 2 x 300g chicken breast fillets

1 tablespoon wasabi paste

2 cloves garlic, crushed

1 tablespoon sesame oil

2 eggs, lightly beaten

2 cups (140g) panko (Japanese) breadcrumbs

sea salt and cracked black pepper

vegetable oil, for shallow frying

kecap manis (sweet soy sauce), for drizzling

micro (baby) mixed salad leaves, thinly sliced long green onion (scallion) and steamed rice, to serve

wasabi mayonnaise
⅓ cup (100g) mayonnaise

2 teaspoons wasabi paste

1 teaspoon sesame oil

Using a meat mallet, pound each chicken breast to 1cm thick. Place the wasabi, garlic and sesame oil in a large bowl and mix to combine. Add the chicken and mix to coat. Set aside for 10 minutes.

Place the egg in a bowl. Place the breadcrumbs, salt and pepper on a tray. Dip the chicken into the egg, then into the breadcrumbs and press to coat. Heat 3cm vegetable oil in a large frying pan over high heat. Cook the chicken, one at a time, turning halfway, for 3–4 minutes or until golden and cooked through. Drain on paper towel, set aside and keep warm.

To make the wasabi mayonnaise, place the mayonnaise, wasabi and sesame oil in a small bowl and mix to combine. Top each schnitzel with wasabi mayonnaise and kecap manis. Serve with salad, onion and rice. Serves 4.

Ashley St George
I made a crunchy slaw to go with mine instead of rice and it was an awesome contrasting combo!