watermelon and raspberry ice-cream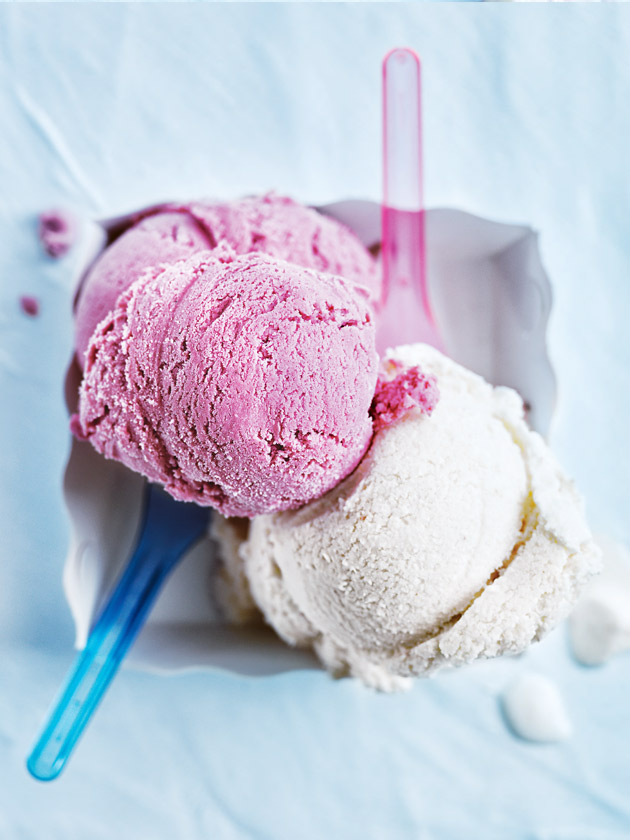 1 vanilla bean, split and seeds scraped

800g finely chopped watermelon

½ cup (110g) caster (superfine) sugar

1 cup (160g) frozen raspberries

1½ cups (375ml) single (pouring) cream

½ cup (125ml) milk

2 teaspoons vanilla extract

Place the vanilla bean and seeds, watermelon, sugar and raspberries in a large saucepan over high heat. Bring to the boil and cook, stirring occasionally, for 20 minutes or until syrupy.

Set aside for 5 minutes to cool slightly. Remove the vanilla bean and discard. Using a hand-held stick blender, blend the mixture until smooth.

Strain through a fine sieve, pour into a shallow tray and freeze for 30 minutes or until cold.

Place the cream, milk and vanilla in a large jug and whisk to combine. Add the watermelon puree and whisk to combine.

Divide the mixture between 2 large zip-lock bags, pressing out as much air as possible, and seal. Lay each bag flat on a baking tray and freeze for 3 hours or until firm and just frozen.

Remove from the freezer and, using your hands, bend each bag to break up the mixture into small pieces. Place the mixture in a food processor, in 2 batches, and process for 2–3 minutes or until just smooth, breaking up any large pieces with a spoon.

Spoon the ice-cream into a 2-litre-capacity loaf tin and freeze for 2 hours or until firm. Scoop into bowls to serve. Makes 1.6 litres.

There are no comments for this entry yet.