zucchini, pumpkin and ricotta lasagne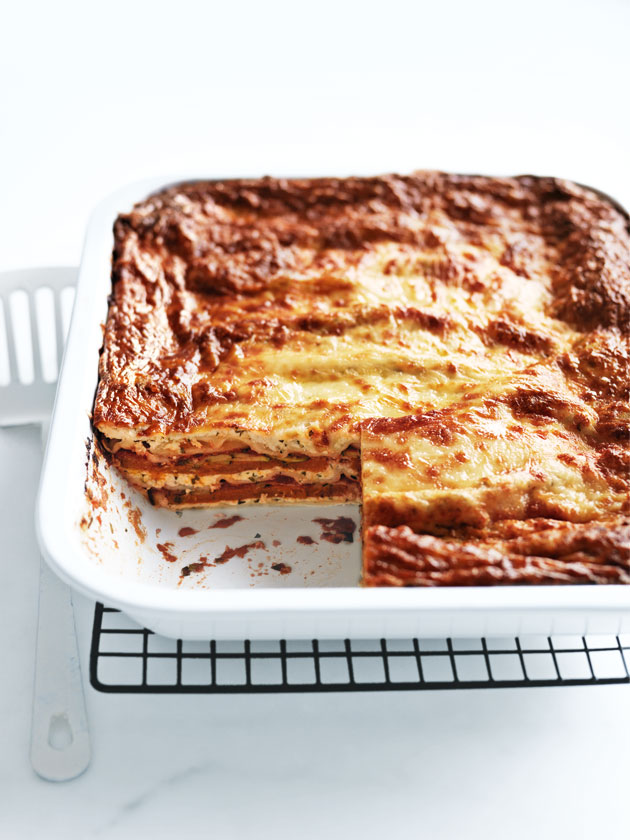 1kg Kent pumpkin, peeled and sliced
1 tablespoon extra virgin olive oil
sea salt and cracked black pepper
1kg (5 cups) fresh ricotta
½ cup chopped flat-leaf parsley leaves
½ cup (40g) finely grated parmesan
1 x 400g can chopped tomatoes
1 clove garlic, crushed
1 cup (280g) tomato purée (passata)
⅓ cup chopped basil leaves
6 fresh lasagne sheets, trimmed
500g zucchini (courgettes), thinly sliced
2 cups (200g) grated mozzarella

Preheat oven to 200°C (400°F). Place the pumpkin on a baking tray, drizzle with oil and sprinkle with salt and pepper. Roast for 15–20 minutes until golden and tender. Set aside.
Place the ricotta, parsley, parmesan, salt and pepper in a bowl and mix to combine.
Place the tomatoes, garlic, tomato purée and basil in a separate bowl and mix to combine.
To assemble, line the base of a deep-sided 21.5cm x 28.5cm ceramic baking dish with 2 lasagne sheets. Top with 1½ cups (300g) ricotta mixture, pumpkin and zucchini slices and spoon over 1½ cups (420g) tomato mixture to cover. Cover with another 2 lasagne sheets and repeat with remaining ingredients, finishing with the remaining lasagne sheets and ricotta mixture. Top with the mozzarella, cover with aluminium foil, and bake for 30 minutes. Uncover and bake for a further 30–40 minutes or until cooked through and the cheese is golden. Serves 6–8.
Alex Taylor
Full of flavour. Delish meal for a meat free night.