apple and cinnamon tea cake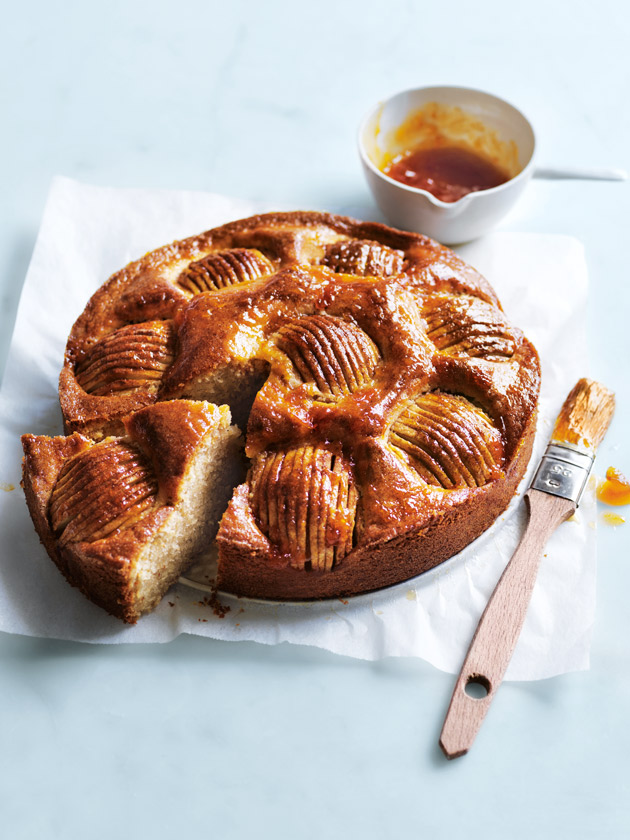 185g unsalted butter, chopped and softened

⅔ cup (150g) caster sugar

¾ teaspoon ground cinnamon

3 eggs

1½ cups (225g) self-raising flour, sifted

½ cup (125ml) milk

4 small green apples, peeled, halved and cored

1 teaspoon white (granulated) sugar

¼ cup (80g) apricot jam, warmed, plus extra to serve

Preheatoven to 160°C. Place the butter, caster sugar and ½ a teaspoon of the cinnamon in the bowl of an electric mixer and beat for 6 minutes or until light and creamy. Gradually add the eggs, one at a time, beating well after each addition. Add the flour and milk, and mix to combine.
Line the base of a 22cm springform cake tin with non-stick baking paper and lightly grease the sides. Pour the cake mixture into the tin.
Cut thin, deep slits into the top of each apple half. Arrange the apple, sliced-side up, over the top of the cake mixture. Place the granulated sugar and remaining cinnamon in a small bowl and mix to combine. Sprinkle over the apples.
Place in the oven and cook for 50–55 minutes. Brush the warm jam over the cake and return to the oven for 10 minutes or until cooked when tested with a skewer. Brush with extra jam to serve. Serve warm. Serves 8–10.

+ When you're making slits in the apple halves, cut most of the way through. Deeper cuts will help ensure the apple is soft once the cake is cooked.
donna hay team
Hi Sharon, instead of apples, you could use pears. Happy baking!
Sharon Currie
This looks a lovely cake. What other fruit could you use instead of apples?
Sharon
donna hay team
Hi Beverley, you will need the remaining 1/4 teaspoon of ground cinnamon to add to your granulated sugar. Enjoy!
Beverley Holmes
Made for the first time. Was mostly happy. The only confusing thing is how much cinnamon goes with the sugar to sprinkle on the apple. That wasn't clear. If I could get help with that happy to make again.
Claire McKenzie
Great recipe! I made a double mixture and it made 24 muffins instead of a cake. Baked for around 15mins. Instead on half apples I diced up the apples and sprinkled on top. My kids loved it. Popped 12 in the freezer…I hope they defrost as nice as they are fresh.
Rachael Jeffrey
Love this cake. My mum requests it for her birthday every year.