beetroot salmon gravlax
with tahini flatbread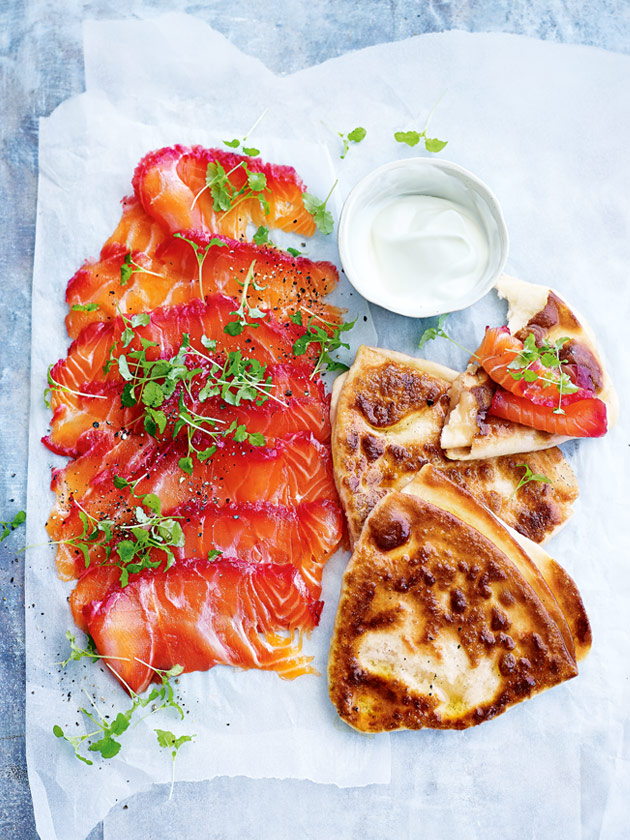 2 cups (440g) white sugar
3 cups (900g) rock salt
400g beetroot, peeled and grated
¼ cup finely grated orange rind
1 cup dill sprigs, roughly chopped
1 tablespoon fennel seeds
1 tablespoon black peppercorns
1 x 1.5kg salmon fillet, skin on, trimmed and pin-boned (see tips and tricks)
1 cup (280g) Greek-style (thick) yoghurt
½ tablespoon lemon juice
sea salt and cracked black pepper
lemon verbena leaves, to serve
tahini flatbread
1¼ cups (310ml) lukewarm water
2 teaspoons active dry yeast
1 teaspoon caster (superfine) sugar
3 cups (450g) plain (all-purpose) flour, plus extra, for dusting
1 tablespoon extra virgin olive oil, plus extra, for frying
1 teaspoon sea salt flakes
1 cup (280g) tahini paste++
¼ cup (90g) honey
Place the sugar, rock salt, beetroot, orange rind, dill, fennel and peppercorns in a large bowl and mix to combine. Place the salmon, skin-side down on a large baking tray. Spoon over the

salt mixture to evenly coat. Cover with plastic wrap, top with a smaller tray and weigh down with heavy objects (see tips + tricks, opposite). Refrigerate for 12 hours, brush the salt from the salmon using a pastry brush, turn the fish and cover the skin side with the salt mixture. Cover with plastic wrap, weigh down with the tray and heavy objects and refrigerate for a further 12 hours. Remove the fish from the tray and wipe with absorbent paper to clean away the salt mixture. Refrigerate until ready to slice.

To make the tahini flatbread, place the water, yeast,

and

sugar in a bowl and stir to combine. Allow to stand for

5 minutes or until bubbles appear on the surface. Place the

flour, oil and salt in a large bowl and make a well in the centre.

Add the yeast mixture and mix to form a dough. Knead the dough on a floured surface for 4–5 minutes or until smooth. Place in a clean bowl and cover with a damp tea towel. Stand in a warm place for 1 hour or until the dough has doubled in size.

Transfer the dough to a floured bench and divide into 12

pieces. Roll out each piece to a rough 20cm round. Mix to combine

the tahini and honey and spread 1 tablespoon of the mixture

on each round, leaving a 1cm border. Fold the dough in half and fold in half again to form a triangle. Roll the dough out again

to flatten. Heat the oil in a large non-stick frying pan over high heat. Cook the bread, in batches, for 2–3 minutes each side or

until golden and cooked through. Place the yoghurt, lemon

juice, salt and pepper in a bowl and mix to combine. Thinly slice the salmon and serve with the flatbread, yoghurt and

lemon verbena. Serves 8–10
+ Tahini is a ground sesame paste available from supermarkets.
++ The gravlax will keep, tightly covered, in the fridge for up to 3 days. Try leftovers on rye bread sandwiches with dill pickles (gherkins).
Tips + tricks
+ The right salt: It's important you use rock salt, and not table salt or sea salt flakes, to cure the salmon. Its coarseness cures the fish without imparting too much saltiness.
+ PinBoning: If you're buying a whole side of salmon, it's easiest to ask your fishmonger to pinbone the salmon for you. To do it yourself, run your fingers along the centre of the fish and remove any protruding bones with a set of kitchen tweezers.
+ Curing the fish: After you have combined the salt mixture with the beetroot, orange rind, herbs and spices, spoon it evenly over the entire fillet. You will leave this to cure for 12 hours.
Before turning, brush all the salt from the fillet with a pastry brush, turn the fish and spoon the salt mixture back over the fish to cover and cure for a further 12 hours. When finished, brush the salt mixture from the salmon, ensuring it's completely removed, and dry on absorbent paper.
+ A good weight: When you're curing the fish overnight, make sure you weigh down the fish with something heavy, such as cans of vegetables.This will help extract any liquid so it can be absorbed by the salt and sugar. You can see from the images above how much liquid is extracted during the curing process.
Photography: Anson Smart
There are no comments for this entry yet.