beetroot-cured ocean trout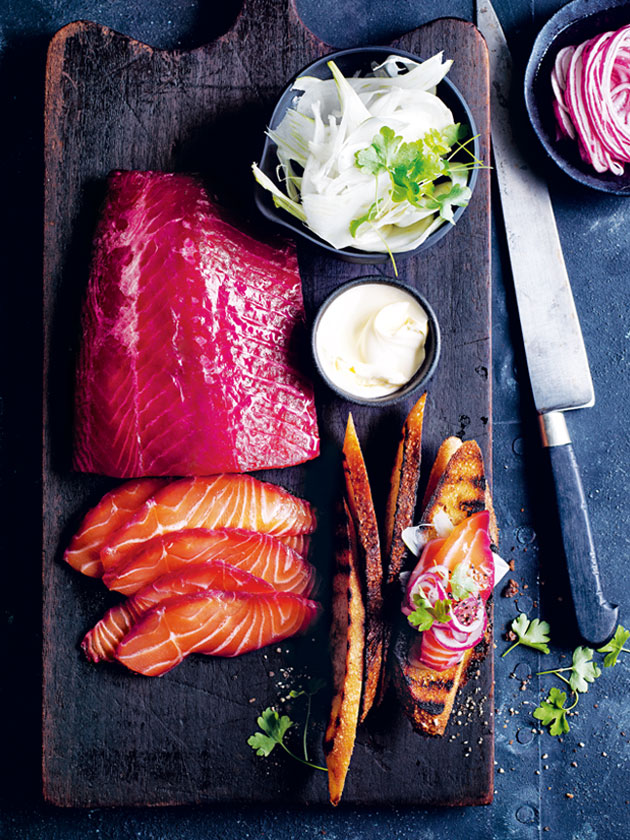 2 tablespoons black peppercorns, lightly crushed

3 large beetroot (600g), peeled and coarsely grated

½ cup chopped dill sprigs

1.2kg rock salt

1 cup (220g) caster sugar

1 x 400g piece sashimi-grade ocean trout, skin removed and pin-boned

¾ cup (180g) crème fraîche

2 teaspoons grated horseradish+

1 sourdough baguette, thinly sliced and toasted

2 bulbs baby fennel (260g), trimmed and thinly sliced using a mandolin

store-bought pickled red onions, to serve

micro (baby) flat-leaf parsley leaves (optional), to serve

sea salt and cracked black pepper, for sprinkling
Place the pepper, beetroot, dill, salt and sugar in a large bowl and mix to combine. Spread half the mixture into the base of a glass or ceramic baking dish. Top with the trout and the remaining beetroot mixture to coat. Cover with plastic wrap, top with a small tray and weigh down with 2–3 cans of tomatoes or beans. Refrigerate for 4 hours (but no longer).
Remove the trout from the beetroot mixture, brushing away any remaining salt with a pastry brush. Using a sharp knife, thinly slice the trout.

Place the crème fraîche and horseradish in a small bowl and mix to combine.

Top the baguette slices with a little of the crème fraîche mixture, fennel, trout, onion and parsley. Sprinkle with salt and pepper to serve. Serves 4 as a starter
+ You can buy ready-grated horseradish in jars at supermarkets and greengrocers.
Tip: The cured trout will keep tightly covered in plastic wrap in the refrigerator for up to 3 days.
Wine note: an elegant starter such as this, with luxe melt-in-your-mouth trout and rich crème fraîche (plus a zing of pickled onion) calls for an equally sophisticated sparkling. Try it with Cloudy Bay Pelorus – crisp and creamy with a savoury finish.
There are no comments for this entry yet.